This is an archived article and the information in the article may be outdated. Please look at the time stamp on the story to see when it was last updated.
The rain is now through and totals are now in.  For Indianapolis the city received basically a half inch (.49") of rain on Friday.  This along with the 1.53" of rain we received on Thursday put our two day total at 2.02" of rain!  Before this deluge, Indianapolis had seen only .28" of rain this month!  In fact we matched the total amount of rain over the past two days that we had seen in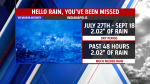 nearly two months!  From July 22nd through Wednesday the 18th the city only recorded 2.02" of rain
Clearly the rain was much needed.  This will help to relieve the moderate drought conditions some of the state is dealing with right now.  New drought maps come out next Thursday for the state.
Looking ahead the next week will likely be dry for you.  I have added a small rain chance for Tuesday night into Wednesday at a time when a shortwave and associated front slides through.  Model data has us dry right now.
Temperatures will continue to tick up through the week with the absence of rain.  This weekend's highs will struggle to top 70.  We expect to see temperatures in the middle to upper 70s Monday 0 Wednesday.  80s will be possible as we head into the weekend.