This is an archived article and the information in the article may be outdated. Please look at the time stamp on the story to see when it was last updated.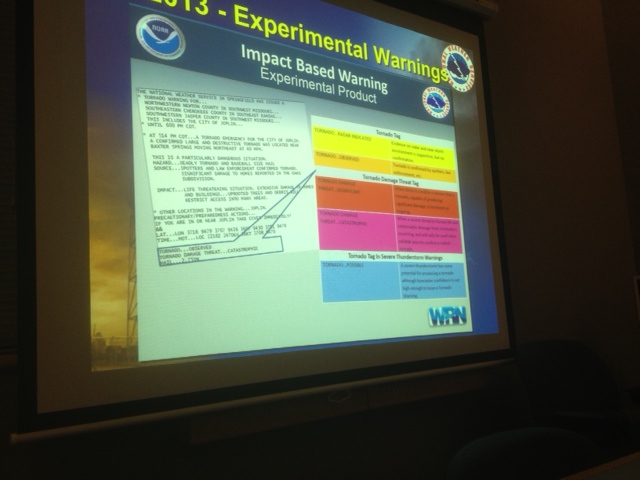 Twice a year local meteorologist from the four major media outlets are invited to the NWS office for a look at either the winter forecast or the spring severe weather forecast.  This year's first meeting happened on Monday morning and I was fortunate enough to get to go.  Overall I am coming away impressed with the amount of tools the National Weather Service is  coming out with to help us and you get a better look at what the weather is throwing at us.
One of the efforts that will really come into play this year during severe weather season is going to be the availability of built in weather radios in many phones.  Most if not all new phones using the android operating system now have this functionality built in.  The system is able to be upgraded on the National Weather Service side to continue to make the warning system better and more focused on your position.  One example of this is last year the system could only target phones in an entire county.  This year they have upgraded the system to be more parallelogram specific.  This means phones in and around the warning area are set off during warnings instead of phones in the entire county.  The National Weather Service says they will continue to make upgrades where needed to the system.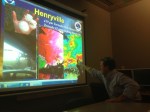 Speaking of our severe weather the local office didn't go into what we should expect with storms this year but I asked specifically about how things are looking for drought like conditions.  There seems to be a lot of good news on this front as forecasters said while the Indiana water table is low right now it has 'recharged' since last summer thanks to above average rains and snow pack over the winter months.  Surface water levels are where they should be for this time of the year.  While admitting that another drought is possible, climatology was also listed as another reason another drought like last year is unlikely.  Besides the Dust Bowl years, forecasters believe there has never been back to back years with drought conditions like what we saw last year. 
Finally I want to add on another change this year to our severe weather forecasting.  Tornado warnings may now have a special tag on them with additional information with specific threats on the storm.  This will begin on April first.  Another additional product from our local office that begins on April first will be four more daily forecasts.  These forecasts will be issued between the other four forecasts the local office already issues out and will allow for them to use more high resolution imagery to talk about current conditions.