This is an archived article and the information in the article may be outdated. Please look at the time stamp on the story to see when it was last updated.
NEW: A Dense Fog Advisory is in effect for the southern part of the state until Midnight. Visibility of less than one-quarter mile is possible.
INDIANAPOLIS, Ind. --Good Sunday afternoon! Merry Christmas and Happy Holidays to all! I'm tracking fog and reduced visibility with some locations seeing less than one-third mile visibility at times. We'll keep the fog around for the next few hours as a warm front lifts north across the area. However, winds will become stronger and should help mix out the fog a bit. We'll still be tracking spotty showers in central Indiana this evening and overnight.
Tonight is one of those weird scenarios where the temperatures will actually be rising overnight and will be in the mid-50s by Monday morning. It will also be rather breezy with gusts to 25 mph.
Monday will bring near-record warmth in spots with highs in the low to mid-60s. Strong winds will be gusting to 35 mph at times. While a few showers can't be ruled out in Indy around daybreak, the main line of showers and t-storms will move in by mid/late morning. Any t-storm that forms may bring strong wind gusts and of course, lightning.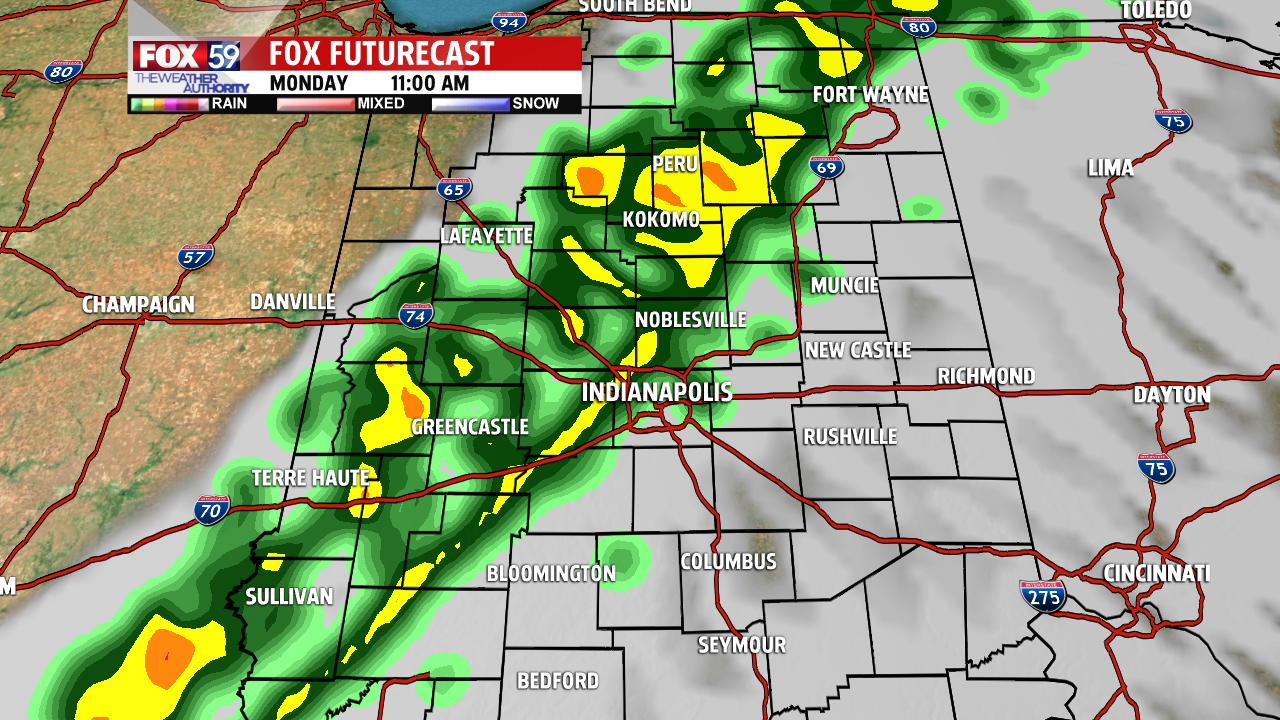 A cold front will move in Monday night and drop temperatures to the low 30s by Tuesday morning.
Weather models hint that a wave passes by the area Wednesday and Thursday with a slight chance of rain Wednesday and a few flurries Thursday. Otherwise, the next chance of heavier moisture looks to come in New Year's weekend in the form of a rain/snow mix. Stay tuned! --Danielle Dozier