This is an archived article and the information in the article may be outdated. Please look at the time stamp on the story to see when it was last updated.
RARE CHILL
It looks and feels like fall Thursday afternoon, a rarity this Autumn.  While the high temperature for the day topped 61° early morning (2:16 Am) this only the 5th afternoon this fall in the 50's.
The lack of cold is amazing.  How rare?  To date, the average temperature of Fall 2016 is 66.6° - 10th warmest on record.  42 days have topped 70° this autumn, the most since 2010 and ranks 16th all-time.
It will be chilly early Friday morning as skies clear later tonight, likely reaching 30's in the outlying areas (where there already has been multiple nights below 40°) but have you noticed that many flowers are still going strong?  We haven't had a frost officially in Indianapolis with only one night dipping below 40° to date - this has only happened 5 times over the past 97 years!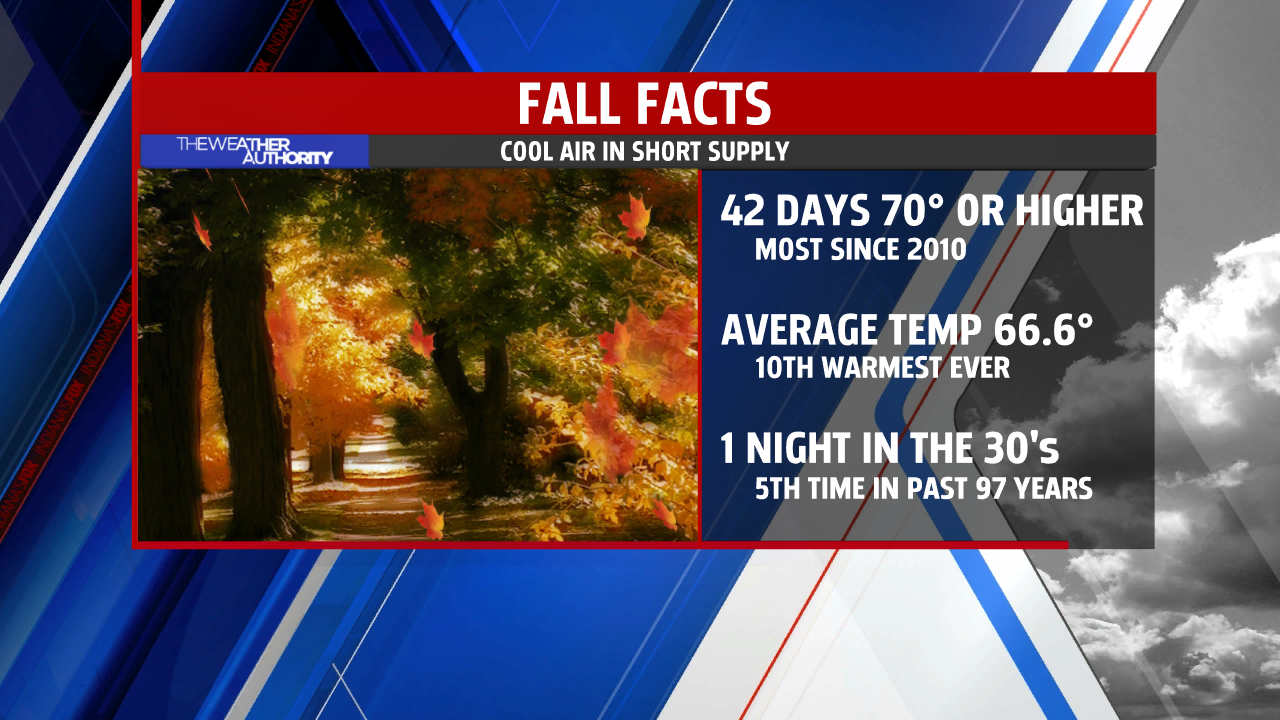 NEW WARM SURGE
A chilly open to a Friday that will be sunny and much warmer.  Southeast breezes will develop and temperatures will respond reaching the mid/upper 60s by afternoon.  It is the start of a brand new warm surge that lasts through the weekend and for much of next week.
Stronger winds Saturday will carry temperatures well into the mid/upper 70s nearing 20 degrees above normal!
The record Saturday is 81° and looks to stand but a few area thermometers could touch the 80° mark.  A wind shifting cold front will pass on Sunday lowering temperatures from north to south but not before reaching 70° early in the day.
A TREAT FOR HALLOWEEN
Just two years ago, a measurable snow fell on Halloween, three years ago severe storms threatened with drenching rains and gust winds.  What a treat for the little ghosts and goblins this year!  Halloween 2016 will be the mildest in 8 years as the same front that passes Sunday returns during the day Monday as a warm front.  High clouds and wind shift in the afternoon signals the return on unseasonably warm air.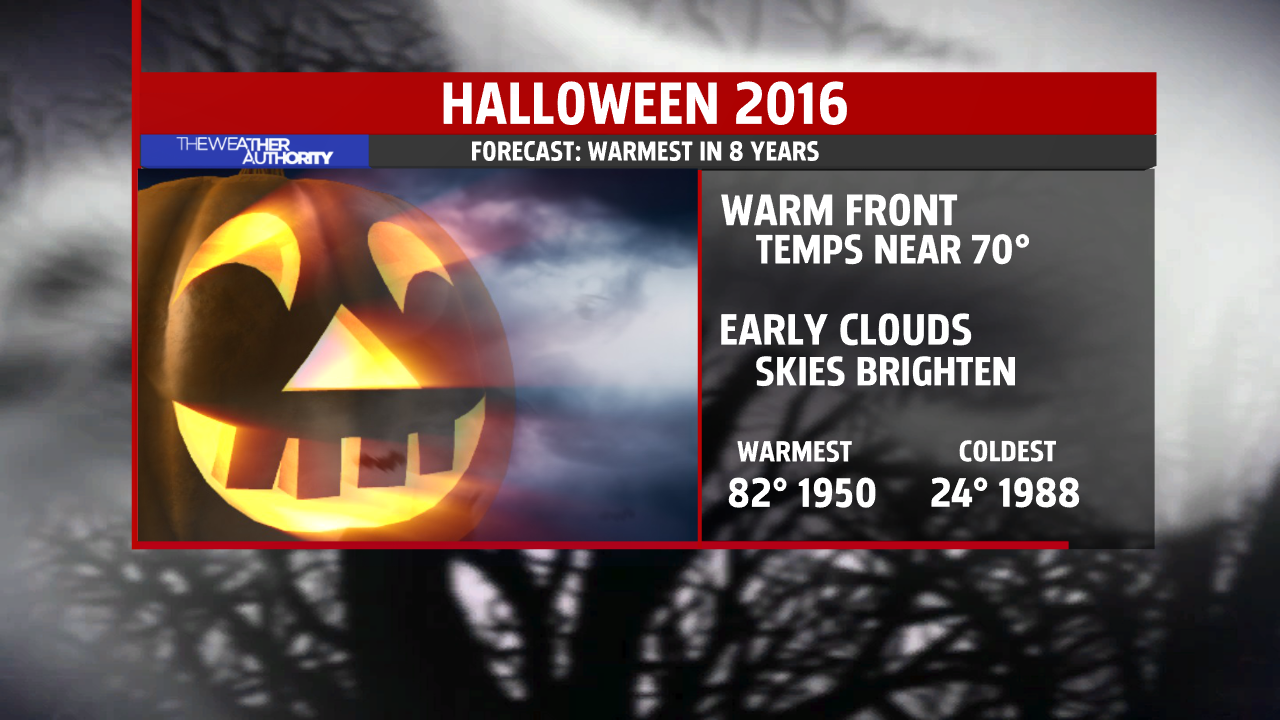 LATEST 80° DAY COULD BE CHALLENGED
November 1st marks the date of the latest 80° day in Indianapolis, (81° 1950)  and we will make a run at that record!  Strong southwest winds will gust to over 30 mph and temperatures will surge to 20 degrees above normal.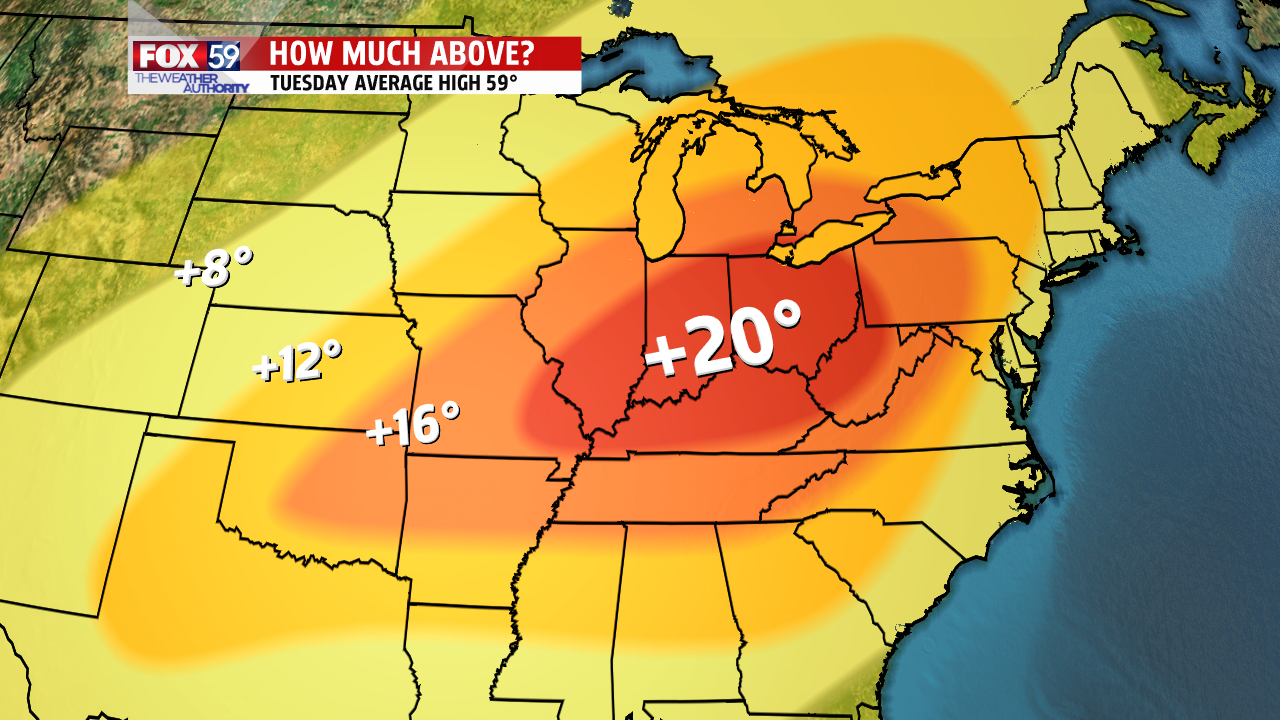 Dry time is likely to hold through next Wednesday with showers and a cool down not expected to begin until late next Thursday.
A flattened. west to east Jet Stream pattern will bathe the nation with Pacific origin air for several days into the new month.  Fall 2016's current status of 10th warmest on record will be rising over the next 8-14 days!