This is an archived article and the information in the article may be outdated. Please look at the time stamp on the story to see when it was last updated.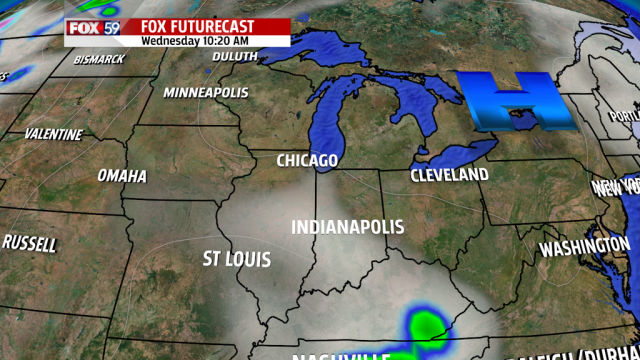 This morning will be a little warmer than what we have seen over the past couple of days thanks to clouds rolling in.  Yesterday morning we fell to 50 degrees here in Indianapolis, with temperatures in the suburbs about 5 to 8 degrees cooler than that.  This morning our overnight low will be closer to 60 degrees in the city and south of the city.  Clear skies has allowed Muncie, Lafayette, Peru and Kokomo to all fall into the low 50s and even 40s this morning.
Don't expect the warmer mornings to start a pattern as jackets may be needed as soon as tomorrow again here in the city.  Tomorrow's low is expected to fall back into the mid to low 50s for Indianapolis and surrounding areas.
Highs heading into the weekend will continue to slowly warm with upper 70s likely both today and Thursday.  Clouds will play a role in just how warm we get today.  We are tracking 80s for Friday and Saturday.  There will be a pretty good chance for some rain showers to slide in along a cool front on Sunday.  Severe weather is not expected here.  Enjoy your day!