This is an archived article and the information in the article may be outdated. Please look at the time stamp on the story to see when it was last updated.
The long advertised mild Thanksgiving could possibly be one of the warmest. Only 16 Thanksgivings have reached 60° or higher - most recent 2012's 63°. The warmest ever 69° in 1973 and 1896.
HOLIDAY WEEKEND TAKES A TURN
A southerly breeze will hold overnight temperatures in the upper 40s and push the thermometer to 60° on Thursday. The flow is moist as well, so a few passing showers cannot be ruled out at anytime Thursday. But the majority of the rain will not arrive until Friday.
An approaching front will separate very mild and very chilly air. Just west of the front, wintry weather will develop. Several states to our west are under winter storm advisories in anticipation for sleet, snow and ice. Travel will be fine through early Thursday but conditions will deteriorate by afternoon out west. I'm posting the forecast weather radar at noon Thursday.
Rain here and it will be steady starting early Friday - the first of two rain surges through the holiday. The first wave will be soggy - perhaps delivering as much as a 1" plus totals in some locations. Later Friday the rain will ease but temperatures will drop quickly as the front passes. Dress warm and stay dry Friday night for tree lighting ceremonies downtown Friday night.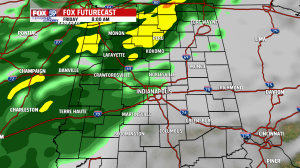 More rain will overrun the cool air starting Saturday night into Sunday morning. This surge will not be as juicy as the first, but half inch to three-quarter inch totals are possible.
COLDER AS CALENDAR CHANGES
December opens next week with colder air arriving Monday evening. Rain showers could change to snow showers by Tuesday along with breezy conditions.