This is an archived article and the information in the article may be outdated. Please look at the time stamp on the story to see when it was last updated.
Isolated showers and thunderstorms will remain possible through sunset today and then finally end.  If we see another pop-up storm this afternoon or this evening, it should be south of I-70.  Severe weather is not expected but will be monitored as always.  But if you do happen to get one of these isolated storms, you can expect heavy rain and lightning.
TONIGHT:
Temperatures remain warm and muggy in the overnight hours.  Temperatures will drop from 77° at 10 PM to 70° by sunrise.  This minimal drop in temperatures is due to the impressive amount of moisture in the atmosphere.  The evening and overnight hours will feel moist and very stick.
TUESDAY:
Tuesday will be hot and VERY humid.  Dew points rose to oppressive levels on Monday and this will be the case again on Tuesday. This added with our 90 degree expected high will result in feels-like temperatures from 93-99°!  Feels like temperatures should actually top 90° even by the noon hour, so be careful and don't over do it outside tomorrow.
If we hit the 90 degree mark tomorrow, it will be the first time we hit that temperatures this year.  Last year, our first 90° or higher temperatures didn't come until July 16th.  Regardless of whether we hit 90 or not tomorrow, it will definitely feel like the hottest day of the year!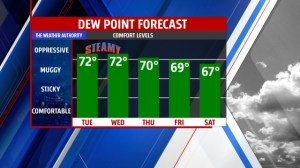 HUMID STRETCH:
It's the air that you wear! It's oppressively humid outside today and it's not going to end for several days. Couple this steamy humidity with the 90 degree heat headed our way and this is Indiana summer by definition! We could be looking at feels-like temperatures in the mid to upper 90s on Tuesday and Wednesday. And check out the picture to the left. We won't be looking at "comfortable" dew points or humidity levels for quite a while.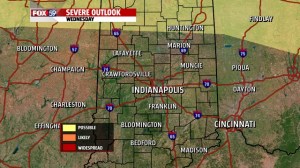 STORMS RETURN:
The chance for showers and thunderstorms will return late day Wednesday and that will continue into Thursday and Friday.  We will even see a chance for severe storms late day Wednesday but at this point, it's not expected across the bulk of our viewing area.  The Storm Prediction Center includes our very northern counties in the "slight risk" of severe weather area on Wednesday.  This is something we'll keep an eye on!