This is an archived article and the information in the article may be outdated. Please look at the time stamp on the story to see when it was last updated.
COLD THANKSGIVING
Early morning temperatures dipped into the middle teens Thursday morning, officially 16° in the city and making this the 11th coldest start to a thanksgiving on record.  Early morning clouds gave way to sunshine but the temperature rise into the middle 30s.  The afternoon high of 36° equaled the cold Thanksgiving of 2002 and was 27 degrees colder than last year!  The wind chill offset the warm up Thursday afternoon, with a feels-like of only 25°. The southwest winds will shift again after sunset to the northwest as a  front slips through the state.  Lows Friday morning will once again dip into the upper teens.
The coldest Thanksgiving ever came in 1900 with a high temperature of only 14° with the coldest low of 1° in 1930.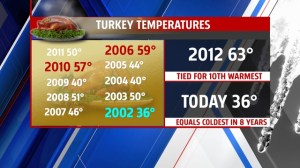 NOVEMBER COLD
The cold spell is impressive – six straight days with below normal temperatures and the past 5 have been unseasonably cold.  The past 5 days, the 23rd through the 27th  the average temperature of 25.5° ranks 6th coldest over a 142 year span.  November 2013 to date is the 33rd coldest on record with an average temperature of 40.1°.
QUIET HOLIDAY WEEKEND
The big east coast storm has moved on and most of the nation will experience quiet weather for the next few days – great news for weary holiday travelers.  No real storm systems are in the short-term forecast, slight rain chances will emerge on Sunday and Monday here.  A tranquil spell before the next large storms system takes shape by the middle of next week.
NEW STORM NEXT WEEK
Heavy rain, wind and even a few strong or severe thunderstorms return next week?  Long range forecast models are hinting at a system mid to late next week.  Looks like a modest/brief warm up before another cold push.  Still several days out but with the recent tornado outbreak still very clear in most Midwesterners minds, any hint or potential of severe storms is heightened.  We will monitor.