This is an archived article and the information in the article may be outdated. Please look at the time stamp on the story to see when it was last updated.
A line of rain and snow is passing through our area at this hour (4 PM).  We are getting confirmed reports of this quickly changing over to big snowflakes especially west and northwest of the city.  This line is moving eastbound and will exit the state by 7 PM at the latest.  After this line passes through your town, expect temperatures to start falling fast! Flurries will be possible this evening behind this main line as temperatures continue to fall.  Some isolated snow showers will remain possible overnight but little to no accumulating snow is expected.  The models are only picking up around .02″ of liquid, which would equal a dusting to maybe a thin layer of snow on the ground by Wednesday morning.  So keep an eye out for some isolated slick spots but this will not be a big system tonight.  Winds will also be a little breezy tonight, coming in from the west at 15 to 25 mph and gusting up to 30 mph.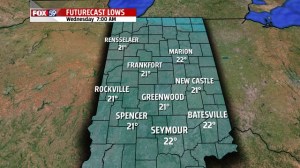 Colder air continues to move in for Wednesday.  We should drop near the 20 degree mark on Wednesday morning for a much more chilly start to the day and more "normal" temperatures for mid January.   We'll only make it into the mid 20s tomorrow with cloudy skies and light snowfall chances again.  Any snow tomorrow would be light and bring in a dusting.   Snowfall chances continue through Saturday.  Thursday evening looking like the best window to see some minor accumulations at or around 1" for us.