This is an archived article and the information in the article may be outdated. Please look at the time stamp on the story to see when it was last updated.
Temperatures remained about 10 degrees cooler than the average for this time of the year today with overcast skies keeping temperatures just slightly warmer than yesterday.  Highs tomorrow should return to the 60s with perhaps the daily high occurring at midnight.  We could potentially see temperatures actually going up with some fog around on Monday morning as we see a surge of warm air along and behind a Sunday evening warm front.  This will be the set up for looks to be a nasty severe weather day on Monday with strong storms rolling through the area Monday afternoon and evening.
The next 24 hours: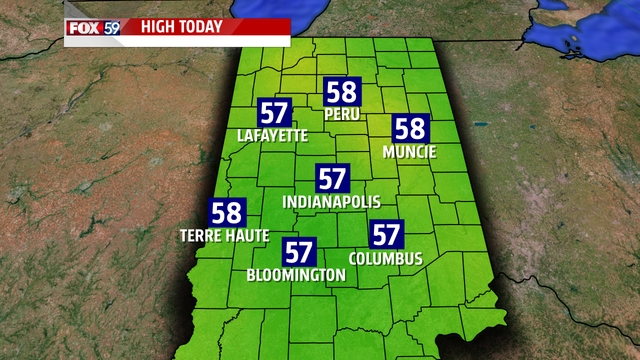 Expect the weather to be calm and nice overnight tonight with lows falling to the low 40s once again.  If you're curious you can see our next rain moving our way on national radar imagery.  Overall there is a developing baroclinic front (low pressure) in Southeast Missouri.  This low pressure area could arrive here as early as the late morning hours of Sunday and will stick around for the rest of the day.  Interestingly enough, after an initial cool down, temperatures should steadily go up as the rain falls.  In fact temperatures Sunday night may not tick down at all.
The rain and low will drag up temperatures and dew points with us turning slightly humid overnight.  I do have some concerns that we may see some fairly thick fog developing first thing on Monday morning with the surge of warmth and moisture.  This setup is often times the recipe for some of the thickest fog and we may see a dense fog advisory issued due to Monday morning conditions.
Forecasting temperatures is a little tricky over the next 24 hours due to everything going on.  I have a high of just 63 degrees on Sunday but that high could occur late (slightly before midnight).  Model data has the Sunday high slightly higher than that.  Monday morning lows should be near 60 degrees.  In fact I expect to see temperatures going up before sunrise on Monday.
Severe weather risk: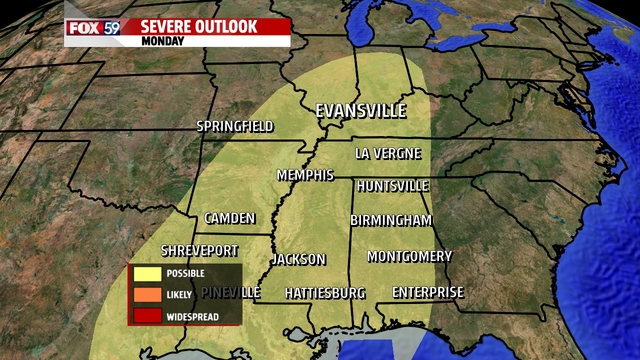 At this point everything is on the table for Monday including the potential for tornadoes.  Strong straight line winds will be the main concern as the storms take on a linear shape late in the afternoon and evening hours.  Model data also shows a risk for supercells ahead of the main line throughout the day on Monday.  In fact we could see a severe storm or two developing first thing on Monday morning.
I first mentioned this threat in my Wednesday blog and I continue to ask everyone to make sure you have your severe weather plan in place and stay severe weather aware.  While we may only see moderate storms on Monday the potential exists for a much larger severe weather outbreak.  At this point we are listed as having a slight severe risk by the Storm Prediction Center.  If the setup remains unchanged we may see parts of the state bumped up to a moderate risk.