This is an archived article and the information in the article may be outdated. Please look at the time stamp on the story to see when it was last updated.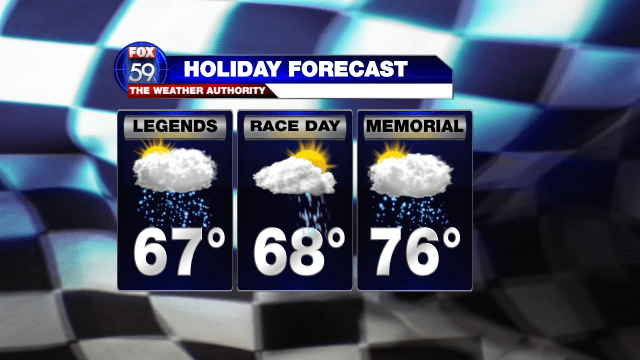 We knew there would be a chance for rain over the weekend, but now model data is starting to bump up those rain chances as they push in warmer air a little quicker.  Overall this weekend will be cool with some light rain possible Saturday, Sunday and Monday.
Carb Day:
It's going to be a gorgeous day but will remain relatively cool.  Highs will only hit the mid-60s for the day.  The average high for this time of the year is 75 degrees, so we will be notably cooler than that.  Skies will be clear today so if you're heading out to the track sunscreen is strongly advised.  Temperatures will remain on the cool side heading into Saturday morning with Saturday lows in the low 40s once again.
'500' Parade and Legends Day:
The '500' Parade begins at Noon with Legends Day going from 8a – 5p.  The Parade should be dry with rain chances going up after 2p.  Saturday highs will hit the upper 60s with most of
the day spent in the low 60s.  I do think we will see some rain on Saturday afternoon on the cities northwest side.  I think these rain chances will extend down over the track with umbrellas being needed.  You may need the sunscreen early on Saturday.  Clouds will move in as we head into the afternoon.  Rain chances will remain in place overnight into Sunday morning. 
97th Running of the Indy 500
Oh boy!  Rain is going to be around all day long but at this point it looks like the best chance for rain will be before around 10a and after about 4p.  At this point it looks like the race will be dry.  Temperatures will be cool with a forecast high of 68 degrees.  This will likely be the first time in over a decade where temperatures will fall below 70 degrees for a race day high.  I say likely because it all depends on the location of a slow moving front that should be located south of the city at that time.  If it sweeps through earlier than expected we would then expect to see temps in the 70s for highs and rain chances higher as well.  This is not expected to happen.
Memorial Day:
It will be warmer with scattered rain and storms.  Thunderstorms will be possible.  There may be a low chance for severe weather (hail, winds).  It's a transition day with highs for the rest of the week hitting the mid-80s.  Please be careful out on water as conditions could change quickly.  Have a safe holiday.