This is an archived article and the information in the article may be outdated. Please look at the time stamp on the story to see when it was last updated.
MONDAY WARM UP
Breezy and milder afternoon. Showers and thundery downpours have raced east and our temperatures are on the rise.  Climbing more than 10° from the same time Sunday - even reaching a few 70s at 4 p.m.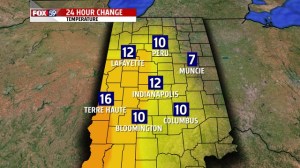 'FROPA' TONIGHT
The winds are brisk from the southwest but will shift as a cold front (FROPA) passes the city between 7 and 8 p.m.  Cooler air returns overnight and for much of the first half of the work week.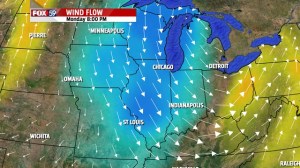 DRY TIME
Rain chances are dropping - with only a spotty shower still possible later this afternoon and early this evening. The threat from rain is off the board for the next several days. From the along rage Euro computer out to 10 days, this machine only generates .04" of rainfall through the 30th.
COOL WEEK TO END WARMER
Steady warming after a dip into the 50s the next two afternoons, along with early morning lows that could bring some frost.  A warming trend is coming and we are expected to reach the upper 60s and possibly the 70s by Saturday.
METEOR SHOWER TONIGHT
The Orionid meteor shower, weather permitting, will peak in the early morning hours on Tuesday.  The remnants of Halley's comet could produce as many as 25 meteors or shooting stars per hour.  Visible after 12 a.m. through sunrise originating from the constellation Orion.  Orion rises from the east-southeast sky after midnight.
The forecast is for broken clouds overhead tonight.  Not the best sky conditions but still worth a shot.  Good luck!