This is an archived article and the information in the article may be outdated. Please look at the time stamp on the story to see when it was last updated.
Tracking rain on guardian radar, with the heaviest falling south and east of I-70. We think this will be our heaviest areas of concern this morning and going into your Saturday afternoon.  Highs today are expected to top out at 78°.  This low is concentrated south of the state, and could move northward as we move into the rest of the day.  Bottom line umbrellas needed, optional plans indoors a good idea too, as today will be the wettest of the holiday weekend!  Here is your timeline: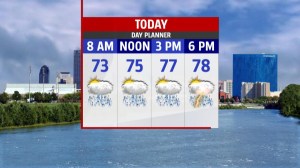 While we have rain today, do you remember this time last year?  We hit a high of 105° on this date! July 6,2012 was the warmest on record. In fact, in July of 2012, we had (7) triple digit days!  This summer, we have yet to even hit 90°. As far as rainfall goes, so far this month, we have already had over an inch of rain. Last year, we only had about an inch of rain for the ENTIRE month of July. What a difference!