This is an archived article and the information in the article may be outdated. Please look at the time stamp on the story to see when it was last updated.
We entered the land of "Daylight Saving Time" today.  Thankfully mother nature was kind in the weather department. The official high from Indianapolis was 67°F!
A cold front is already moving into the state this evening and this has pushed light to moderate showers into our western counties.  This rainfall will continue to cover more of our viewing area overnight.  Skies will remain overnight and temperatures will remain warm in the mid to low 50s.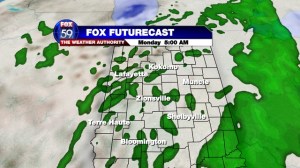 We'll start the day with spotty rain showers, temperatures near 50°F and breezy winds.  This will likely be the warmest temperature many of us will feel in the day because temperatures will slowly fall the rest of the day.  By 5 PM when we get out of work, temperatures will be in the mid 40s.  Everyone has a chance for rain in the morning but the rainfall chance will start to drop in our western counties.  Locations east of Indianapolis will continue to see spotty showers Monday afternoon. The low-level jet will help in the lifting category tonight and tomorrow morning, so rainfall amounts around 1″ look possible across the viewing area.  Due to an already saturated ground from the melting snow, localized flooding issues will be possible in the typical spots that always flood.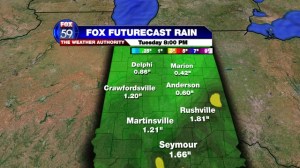 Temperatures turn colder on Tuesday as cold air wraps in behind this system.  Temperatures will only climb into the mid to low 40s for Tuesday afternoon. By the middle of March, the average daytime high should be closer to 50°F. 
Our next weather maker arrives Wednesday morning. A minor impulse will swing through the state Tuesday night into Wednesday morning and this could produce a brief period of flurries.  This will keep temperatures cold on Wednesday as we top out around 35°F.