This is an archived article and the information in the article may be outdated. Please look at the time stamp on the story to see when it was last updated.
SOGGY ELECTION DAY
Through 4 PM, .16″ of rain has fallen in the city – after arriving around 11 AM.  The rain is rather light and will persist for a few more hours.  Total rainfall should reach only an average of about a quarter of an inch in the city.  The highest amounts just under a half-inch are northwest.
Showers settle south this evening.  We bracket the hours of 8 PM to 9 PM for the rain to wrap up in the city.  Some clearing develops northwest during the overnight hours.
BRIEF TEMP REBOUND
Sandwich day Wednesday – as we are in between weather systems. Skies will brighten but not fully turn sunny Wednesday as a cold front stalls south.   A few showers could swipe far southern sections near the front while most of us remain dry. Temperatures will rebound back to the middle 50s Wednesday.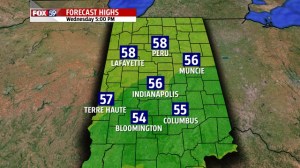 COLD SURGES COMING
Cold is on the move – and several fronts will drop south during the next 7 to 10 days.  An active period of weather is coming with periodic strong temperature swings – in typical November fashion.  The first front arrives early Thursday with wind, rain showers and a big drop again in temps through the day.  Some snow could develop Thursday evening as the colder air settles in.
The 3rd surge of cold (next Wednesday) could bring the coldest air to date for the season.  High temps only in the 30s? – Stay tuned!