This is an archived article and the information in the article may be outdated. Please look at the time stamp on the story to see when it was last updated.
Central Indiana will see the return of rainfall in the overnight hours as a slow-moving cold front advances into the state.  This brings in a likely chance of showers with isolated thunderstorms.  Severe weather is not expected in the overnight hours nor on Monday.  Temperatures will also remain mild overnight, only dropping into the upper 60s.
Showers are likely on Father's Day morning as the boundary remains the focal point for lifting and shower activity.  We could also hear some rumbles of thunder on occasion.  The front sags farther to the south for Sunday afternoon and this should bring an end to the rainfall for the majority of the state.  The only place I'd keep in a mention of rain for the afternoon would be our very southern counties.  But elsewhere, clouds will decrease by mid afternoon and reveal partly cloudy to mostly sunny skies.   Temperatures will be very similar to what we saw for Saturday as highs end up around 83°F. 
Here's a look at Sunday morning and with the front overhead, showers are expected.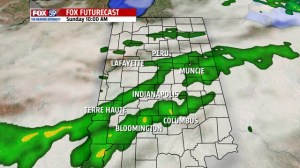 Rainfall amounts aren't coming in as impressive this evening as they have in the past couple of days.  Most of the models were averaging around .5″  to .75″ of rainfall.  The outlier was the RPM and it picked up less than .10″ of rainfall for all on Sunday.
We'll continue to see a break from the rain Sunday night and throughout much of Monday.  But later Monday afternoon, this same boundary that becomes stationary to our south will lift back up to the north and put us in line for another wave of moisture.  This would time out to be Monday evening for the start of rainfall and light rainfall chances could linger throughout Tuesday.
We go dry for a few days to finish out the coming work week. Temperatures also remain near normal levels (82°) through Thursday but the heat and humidity starts to build on Friday.