This is an archived article and the information in the article may be outdated. Please look at the time stamp on the story to see when it was last updated.
Central Indiana saw a beautiful but warm start to the weekend.  Temperatures increased into the low 80s across the state.  Indianapolis officially hit 82° for the high on Saturday.  Clouds will move in first tonight, followed by rain showers on Sunday.  The majority of us will not see rain in the overnight hours.  Temperatures will fall into the low 60s and winds will continue from the south at 5-10 mph overnight.  But rain will start to sneak into our very western and northwestern locations before sunrise Sunday.
But for the majority of us, rainfall will be moving through the area during much of Sunday morning. These will mainly be light to moderate rain showers.  The best chance for rain starts around sunrise and continues up until the noon hour for most of us.  As you can see on Fox Futurecast, the cold front will be producing rain through the heart of our viewing area at 10:30 AM and this is mainly a steady shower and spotty at times.  This will be slow to move through, so be sure to check the radar from time to time if you are needing to get outside during a dry window.
This shield of rain will keep going into the afternoon hours but the area of focus will start to shift more to the east and southeast.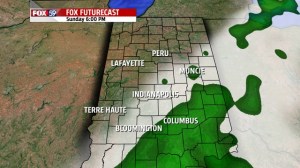 The second Fox Futurecast image takes us to 6 PM when the rain shield is mainly east and southeast of Indianapolis.  This isn't to say we couldn't see an isolated shower during the afternoon hours, but the later we get into the afternoon, the lesser chance for rain in the metro.  But for those of you in Shelbyville, Columbus, Seymour, Rushville and Bedford should expect the chance of rain to come in later in the morning and last later into the day.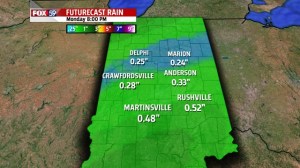 Now let's talk about how much rain is coming in with this cold front.  As I said above, this isn't going to produce any heavy downpours for the most part.  But because of how slowly this is moving through, the rainfall amounts might help green-up the yard a touch.  The models are picking up between .2″ to .6″ of precipitation.