This is an archived article and the information in the article may be outdated. Please look at the time stamp on the story to see when it was last updated.
(Dec. 7, 2014)–Sunday was an overall nice day with a high temperature in the city of 39 degrees. Clouds increased through the day and we'll see a mostly cloudy sky overnight. Temperatures at the 7 p.m. hour were near freezing to the north and in the mid-30s in Indianapolis. Bloomington and Columbus were at 36 degrees. Tonight's lows will be in the upper 20s to low 30s.
It will be a dry evening but Monday expect rain to develop and spread from west to east across Indiana during the day. As a warm front lifts across the region, high temperatures will be in the low 40s so much of the afternoon expect any precipitation to fall as rain in the city.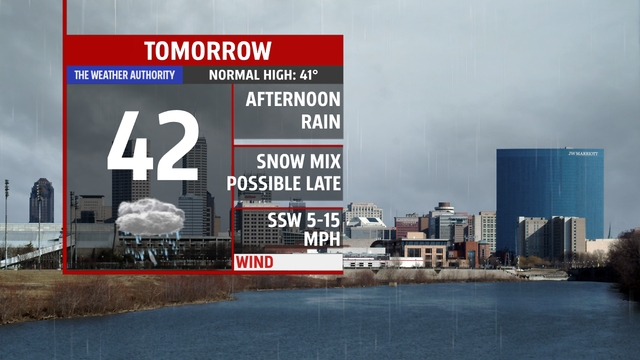 Fox Futurecast shows rain across parts of northern and central Indiana around 2 p.m. Monday. As it continues to rain and a cold front moves in, the atmosphere will cool, enough to where we may see snow mix in with rain in the evening and overnight.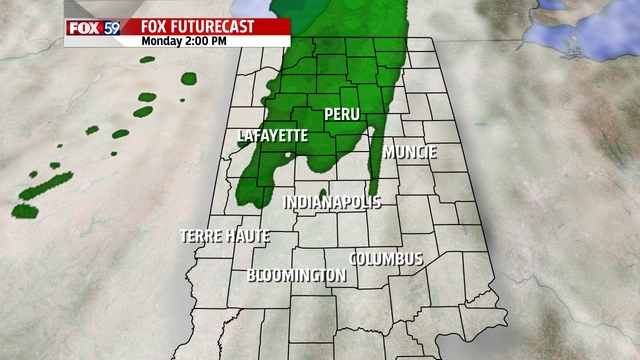 Temperatures Tuesday morning will be near freezing so we may have a mixed bag of wintry weather. The probability of rain Monday is 40 percent and the chance of freezing drizzle or light snow Tuesday morning is 30 percent.
The 7-day forecast shows highs in the 30s through mid-week with a rebound to the mid-40s by the weekend.