This is an archived article and the information in the article may be outdated. Please look at the time stamp on the story to see when it was last updated.
(Dec. 21, 2014)–The winter solstice is today! Winter officially begins at 6:03 p.m. EST and marks the shortest day of the year.  Days will get longer from here out until the summer solstice on June 21.  The sun returned today for the first time in what seemed like forever and temperatures managed to climb into the upper 30s in spots! Winds are light and the wind chills are in the low 30s as of the 4 p.m. hour. Grab the coats!
Tonight's low temperature will drop to the upper 20s with a light southeast wind. Still several degrees above average. Models show a small amount of moisture  Monday morning which may be in the form of sleet so if you have to work, just keep an eye out and stay with Fox 59 for the latest. Otherwise, clouds work their way in and highs climb to the mid-40s Monday afternoon. Rain is likely to develop from west to east across Indiana as a low pressure moves in. The best chance for rain in Indy is toward the evening commute and thereafter.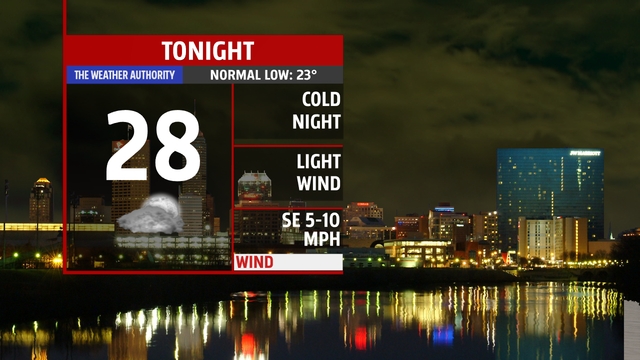 As a series of low pressures combine, it will make for a strong, windy system by mid-week. Rainfall amounts of up to 0.75 inches are possible in the city through early Wednesday. Wednesday evening, snow will mix with rain and continue through early Christmas Day. Much of the afternoon Christmas Day appears cloudy and dry. It's too early to tell how much snow will fall but as of now, not much as warm air is winning the battle.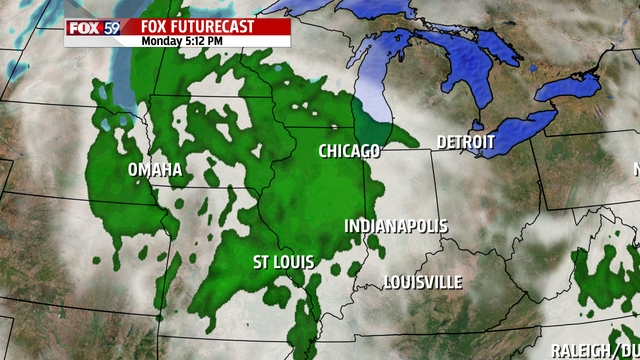 In terms of temperatures this upcoming week, highs will reach the low 50s Tuesday! The high temperature of 46 Wednesday looks to occur at midnight and be falling through the day so expect colder air Wednesday. Highs in the 30s are expected Christmas Day. Winds will be strong both Wednesday and Thursday–as high as 25 mph sustained. Another wave will move in Friday bringing a slight chance for a rain/snow mix and much colder air arrives by next weekend!