This is an archived article and the information in the article may be outdated. Please look at the time stamp on the story to see when it was last updated.
Temperatures have been slowly climbing this week and the ample sunshine the last few days has helped to warm us up into the 70s. You wouldn't think that is overly exciting but for this time of year, we should be around 76°F and temperatures have been below this level since the 10th of September.
TONIGHT: Skies stay clear tonight but temperatures won't be as cool. A south wind will help keep temperatures in the mid to upper 50s in the overnight hours.
SATURDAY: We'll continue to see warmer temperatures on Saturday, climbing into the low 80s. This puts us above normal for the time of year and dew points will also increase for the start of the weekend. Much of the day will be dry but a cold front is headed our way and this will bring in the chance for rain Saturday evening. Fox Futurecast brings the chance for rain into our state around 5 PM and continues that chance well past sunset.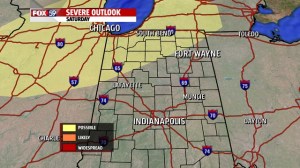 But this event won't encompass the entire viewing area in this time frame. Showers will first start in northwest Indiana, then slide into central Indiana closer to 7-9 PM and then shift farther south closer to midnight. At this time, severe weather is not expected across the bulk of our viewing area. Only a small portion of northwestern Indiana is included in a slight risk of severe storms. There, some large hail, damaging winds and a tornado or two cannot be ruled out with the evening storms. The model average for rain is less than a quarter inch total.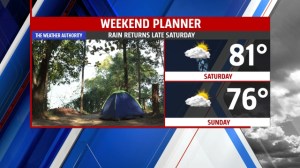 SUNDAY: Some isolated showers cannot be ruled out on Sunday morning as the front continues to slide through the state. This also means more cloud cover for the start of the day. But clouds will decrease for Sunday afternoon and temperatures will be near normal in the mid 70s.
EXTENDED: Fall begins Monday evening at 10:29 PM and it will definitely feel like a fall day on Monday. Skies will be sunny and winds will be coming in from the northwest at 5 to 10 mph. This brings in cooler air and temperatures should only top out in the upper 60s. High pressure will help keep our skies clear as we continue throughout the workweek. Temperatures will slowly climb and return to the 80 degree mark around Thursday.