This is an archived article and the information in the article may be outdated. Please look at the time stamp on the story to see when it was last updated.
Clouds moved through this afternoon and it also turned windy as a cold front passed through the state.  But temperatures still ended up much warmer than what we saw on Friday.  At 3 PM, we were running 14 degrees warmer and it was a noticeable difference outside. As for the winds, those should drop below 10 mph after sunset and temperatures won't be as cold overnight due to a few more clouds.  Skies will be partly cloudy tonight and the low should fall to 50°F which is right around normal for this time of year.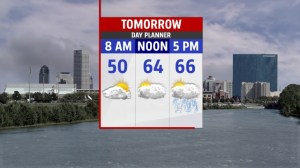 SUNDAY
Sunday will start partly cloudy but skies turn mostly cloudy for the afternoon hours. A weak short wave system (low pressure system) will pass through the state and this brings in a chance for some spotty light rain showers between 2-9 PM.  Temperatures will come in just shy of normal in the mid 60s. If you get some of this spotty rain activity, expect temperatures to drop several degrees as the rain cools the air.  But Sunday will not be a washout and we are not looking at the threat of storm either.
Skies remain mostly cloudy Sunday night and temperatures will fall into the mid to upper 40s.
MONDAY
Monday will be mostly cloudy and slightly below normal as well but rainfall chances look rather slim that day. Winds will be coming in from the east at 5 to 10 mph and it will bring a dreary start to the work week.  The rainfall chance for Monday comes in at 10% so not a wash out rainfall day either.
EXTENDED
We get into the warm wedge of our next system on Tuesday and temperatures will climb quickly. We'll make it to 70° on Tuesday.  Wednesday will be partly cloudy and windy with winds from the south at 10 to 20 mph but it will be warmer again. Temperatures will climb into the upper 70s that day.  We could even make it into the 80s by Thursday as warm air takes over for a taste of summer.  All of this warm and moist air will eventually fuel our next chance for showers and thunderstorms which will arrive on Friday and continue into Saturday.