This is an archived article and the information in the article may be outdated. Please look at the time stamp on the story to see when it was last updated.
RECORD BROKEN
A 30-year-old record fell shortly after 2 PM Tuesday when the city recorded a temperature of 96°.  That equaled the hottest of the season and marked the 13th 90 degree day of the season.  The heat late season is extremely rare, on average only two 90° days occur in September but the extreme nature of the temperature is also for the record books.  A scan of weather records shows that this is only the 8 time in 142 years of record keeping that the thermometer in the city reached 96° this late in the year.  The last time was in 2010 with one day.  1991 and 1953 produced one day as well.  the most 96° or hotter days on record this late in the year came in 1939 with 4 days.
The heat will not let up on Wednesday as the mercury climbs again to record levels.  The current forecast of 95° will tie the 116 year old record.  We will update the forecast later tonight but it is looking like that record will fall as well.  The projected heat Index will likely push over 100° again in the city for the 3rd straight day.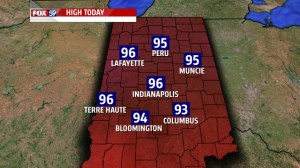 RELIEF COMING
We will cram 2 seasons into 5 days, summer and Fall.  A strong push of cool air will arrive after the passage of a cold front early Thursday.  The drop will be sharp as the coolest air in 3 months arrives.  Area temps are headed into the 40s with the first sub 50 in the city projected here since early June.  It will feel over 50 degrees cooler as we move from 100° heat indices to lows in the upper 40s by Sunday morning.
AFTERNOON STORMS
A few gusty storms developed as a south flow of air into the state combined with afternoon heating.  Heavy downpours and some locally gusty winds occurred beneath the storms mainly south of I 70.  The storms were short-lived and produced blinding rain for a few.  The storms reached 50,000 feet in some locations and as quickly as they formed collapsed.  The collapse of a storm near Rushville created gusty winds and possibly a micro burst toppling trees and power lines in Rushville.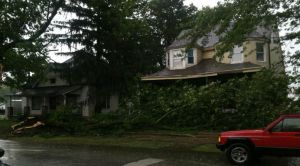 STILL NO RAIN
Localized downpours occurred on Tuesday but the rainfall forecast is still not looking good.  Computer runs out the next 2.5 weeks still only producing  50% the normal rainfall with the best chance of area wide rain coverage coming with a cold front Thursday.  Rainfall this time of the year is not evenly distributed so it is possible a few locations could see some rain amounts higher than the prediction, much like Tuesday – the point is that this is a trend and most are not going to see the needed rainfall to ease the drought conditions.