This is an archived article and the information in the article may be outdated. Please look at the time stamp on the story to see when it was last updated.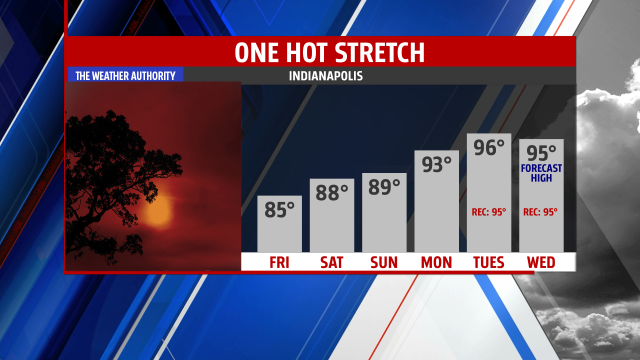 Expect ANOTHER hot day again today with temperatures at or possibly breaking the record highs for the day.  Yesterday Indianapolis set a new record high for the day as we hit 96°.  Indianapolis was not alone as South Bend set a record with a high of 97°!  Their previous record was more than a century old as they had hit 96° in 1897!  Fort Wayne tied their high minimum temperature yesterday morning as they only fell to 73 degrees.
As we have said expect a repeat today as a warm air mass mixed with very dry soils continues to allow us to see potential record highs for today.  We are forecasting a high of 95 for Indianapolis today.  There will be a small chance for an isolated storm or two this afternoon with gusty winds being possible near or in any storms that break out.  At this point it looks like the best chance to see some rain are for those south of Indianapolis.
Relief from the heat and the dry conditions is coming.  We are tracking a late morning frontal passage that will occur on Thursday morning.  Our high temperature could occur as we hit midnight, with afternoon highs likely being close to 80 degrees.  I do have some concerns with the front as it passes.  Model data indicates a very weak passage of rain as it slides through, but we could see some powerful storms along the front as there is plenty of instability to work with.  The weekend is looking comfortable with highs in the 70s both Saturday and Sunday.