This is an archived article and the information in the article may be outdated. Please look at the time stamp on the story to see when it was last updated.
(Sept. 19, 2014) – A pleasant day is setting up for today with rain chances going up in the middle of your weekend.  The good news for anyone with outdoor weekend plans is that the rain will peak during our Saturday night and Sunday morning bedtime hours.  This means most won't be impacted at all by the rain as it moves through.  At this point we expect to see one or two isolated thunderstorms crossing the state with the rain on Saturday night.
Today
Clear and pleasant weather expected with highs slightly warmer than the 72° we hit yesterday.  The average high for this time of the year is 76 degrees and we will be close today.  Officially I am forecasting a high of 75 degrees.  If we fail to hit 76 degrees, today will be the ninth consecutive day with high temperatures failing to hit the daily average high.
Winds today will be light and out of the southeast.  I have them at 5–10 mph.  We should see plenty of sunshine.  Sunrise is at 7:29 with the sun setting at 7:49.  Fall begins on Monday at 10:29 p.m.
Weekend rain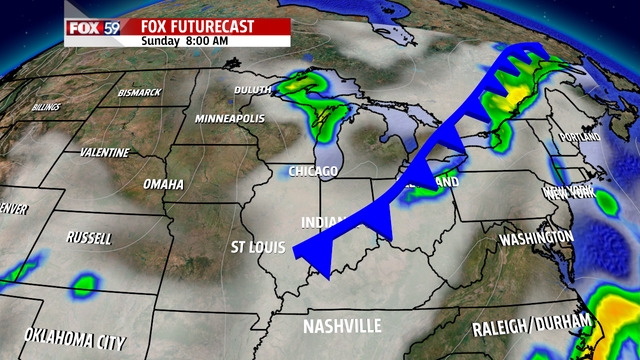 This weekend's rain will be a case of right place, right time for some.  If you look at radar at about 10 p.m. on Saturday night you'll likely see a ragged broken line of rain with a couple of isolated storms moving into the state.  This means that not everyone will see some rain on Saturday night but most will.  A few will also see a thunderstorm rolling through their communities with rain totals significantly higher where thunderstorms track.  When we pull up rain totals on Sunday I expect to see plenty of communities with only a trace amount or less than a tenth of an inch of rain.  I also expect I will see one or two places at or above a half inch of rain.
After Sunday morning's expected light drizzle things should be dry for a spell.  In fact you would be hard pressed to find anything more than a chance rating of rain for the rest of next week.  While the state will still be under the same trough-y pattern (cooler than average conditions) it looks like high pressure stalls out over Ohio and should keep us in an area with winds out of the east and dry conditions.