This is an archived article and the information in the article may be outdated. Please look at the time stamp on the story to see when it was last updated.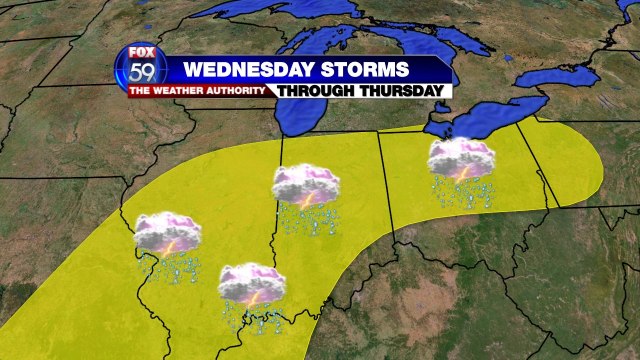 Severe chances are coming into focus this morning with it now looking like strong storms will be likely on Wednesday night into Thursday morning.  Strong winds and an isolated tornado will be possible as a warm front drapes over the area.  At this point I believe straight line winds associated with a cold front passing by will be confined to
Southern Indiana with heavy rain occurring north of the city.
What can you expect?  Well for most strong winds will be the main thing.  There is also a chance for an isolated tornado.  It isn't a great chance but the chance is large enough to mention.  Rain chances will be spotty with some communities seeing well over an inch of rain and other places not even seeing a half inch.  On average I think most communities will see about three quarters of an inch of rain.
While we wait on the severe weather to arrive we get to continue to enjoy some nice weather with highs in the upper 70s both today and tomorrow.  I expect to see some communities hitting their first 80s of the season on Wednesday.
Behind the severe weather we will see a temporary cool down with highs on Thursday in the 60s and Friday highs in the low 50s.  We will remain cool on Saturday before warming up again on Sunday with a high forecast at 70 degrees.  Monday's highs should also hit the 70s.