This is an archived article and the information in the article may be outdated. Please look at the time stamp on the story to see when it was last updated.
After a night of on-going thunderstorms, the chance for storm activity still isn't done.  Storms are expected to redevelop earlier today than what we saw on Tuesday.  Our best window is between 2 PM to 10 PM.  Most of our in-house models are showing the best development from 4-8 PM this afternoon, especially for Indianapolis.
When it comes to what kind of severe weather we'll see today, they are all up for grabs.
DAMAGING WINDS 
Damaging winds are again possible this afternoon but the best focus this time is from I-70 and to the south.  This is where mid level lapse rates are forecasted to be a bit larger.  Also, southwestern Indiana should be a focal zone for initial storm activity.  Storms are above to move into our southwest counties as of 12:30 PM.
Winds could gust higher than 60 mph and that may produce damage to trees, powers lines and homes once again.  Furthermore, the danger is also there for vehicles on the interstate to be pushed/tipped over by these winds.  Today, storms could be pushing through during the afternoon rush hour so it is VERY important to check the radar before you get on the road today.  People who drive large profile vehicles (semi trucks) are very aware of what high winds can do, so be on alert!
LARGE HAIL:
Any of these storms today could produce hail larger than 1″ in diameter.  These storms will have tall updrafts once again and this helps with hail stone development.
When watching these storms via radar, keep an eye out for cells that have bright purple or pink colors in the core of the radar image.  That typically shows you that the storm is either producing torrential downpours or you are looking at a hail core.
As you can see in the map, there is an overall 15% chance of seeing larger hail with any storm today.
TORNADO:
Unlike Tuesday, there is a chance for tornado development today but it's mainly for the very southern part of the state.  We aren't talking about long track, massive tornadoes, but smaller scale tornadoes.  Regardless, if one does form, damage is always a reality if it moves through.
When these storms form initially, they will be more isolated storms, not the big line like we've seen lately.  These isolated cells can grow, rotate and become supercells.  If these supercells manage to form in the early afternoon, then the tornado threat would be there and it wouldn't be out of the question to see some tornado warnings.
But as you know, all the ingredients may be there and sometimes a tornado just doesn't form.  We'll have more updates on this throughout the day.  But this is another reminder to be on alert today and checking the radar.
FLASH FLOOD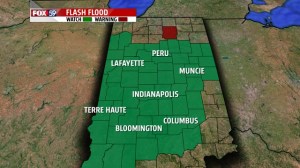 Finally, there is also the threat for flash flooding with these storms.  The storms that came in Tuesday evening and into this morning already dumped heavy rainfall across Central Indiana, especially in the southwestern part of the state where radar estimates come in over 2″ for many locations.
A FLASH FLOOD WATCH has been issued for most of Central Indiana through 8 AM Thursday.