This is an archived article and the information in the article may be outdated. Please look at the time stamp on the story to see when it was last updated.
The National Weather Service has canceled the Severe Thunderstorm Watch for portions of Central Indiana.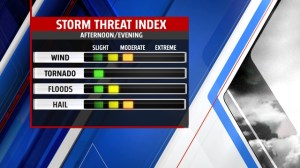 Our primary concerns with this system were large hail around 1.5″ in diameter along with wind gusts up to 70 mph. 
STORM TIMELINE
4:30 PM: Isolated storms are developing across Central Indiana but no active warnings as of this time.  Heavy downpours reported in Johnson County hear Franklin, IN.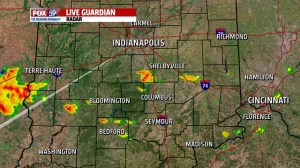 4:33 PM: Live Guardian radar is starting to detect 1″ diameter hail just north of Edinburgh. This cell continues to move slowly to the southeast.  Hope is also in the path of this storm.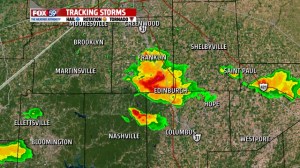 5:00 PM:  Strong Thunderstorm Advisory for Northeast Brown, Western Bartholomew and Southern Johnson County until 5:30 PM. The storm is moving south at 10 MPH. Penny sized hail along with heavy rain is possible with this storm. Nashville, Princes Lakes, Peoga, Spearsville and Gnaw Bone are in the path of this storm.
5:05 PM: Strong thunderstorm advisory for NE Daviess, Greene and NW Martin Counties until 5:45 PM.  Penny sized hail and heavy rainfall is expected as this storm moves to the south at 10 mph.  Newberry, Elnora, Crane, Odon and Burns City are in the path of this storm.
6:00 PM: Storms remain south of Indianapolis this evening.  There are still no severe thunderstorm warnings for any of our counties but a few warnings have been issued in Knox, Daviess and Sullivan Counties.
6:07 PM: STORM REPORT – Bedford [Lawrence Co, IN] public reports HAIL of E0.70 INCH at 05:55 PM EDT.
6:09 PM: 3 miles south of Seymour [Jackson Co, IN].  A trained spotter reports HAIL of nickel size (E0.88 INCH) at 06:09 PM EDT — winds gusting to 40 mph. reported from Freeman Field.
6:12 PM: Pea sized hail reported in Seymour, IN.
7:45 PM: Storms continue to fire back up over some of the exact same locations.  This is resulting in several inches of rain in portions of Monroe, Lawrence and Jackson County.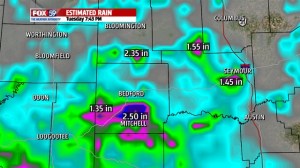 9:00 PM: Severe Thunderstorm Watch canceled.