This is an archived article and the information in the article may be outdated. Please look at the time stamp on the story to see when it was last updated.
Isolated storms are still possible today but scattered storms are in for Tuesday afternoon and evening. The Tuesday storms could pack more a a punch with large hail and damaging wind gusts possible. The Storm Prediction Center has included most of our viewing area in a "slight risk" of severe storm for Tuesday. You can see that map at the top of this blog post.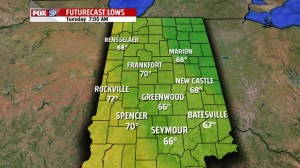 TONIGHT:
Skies remain partly cloudy tonight and most of the state will stay dry. A wave of storms will be coming in from northern Illinois around dawn Tuesday morning and this could mean some isolated storms for northwestern Indiana as we start the day. But those storms have to hold together, which may not materialize. But do know that the chance is there.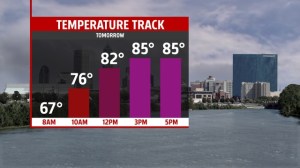 TUESDAY:
Outside of the small chance for storms on Tuesday morning in northwest Indiana, the majority of our state will be dry as we start the day. Skies will be partly cloudy and it will be a muggy start yet again. I wouldn't rule out a few pockets of fog again too. Temperatures will climb into the mid 80s on Tuesday afternoon. Scattered showers and storms will develop after the noon hour and the chance of storms will be in throughout the afternoon and evening hours and this is when we could see severe storms. Below is a slide show of how those storms could play out tomorrow: