This is an archived article and the information in the article may be outdated. Please look at the time stamp on the story to see when it was last updated.
Central Indiana is looking at several rounds of showers and thunderstorms over the next 36 hours.  Here's a break down of what you need to know to keep you and your family safe.  Severe weather is looking more and more likely for Sunday!
SATURDAY:
Showers and storms will develop later Saturday evening and we'll be looking at heavy rain and some isolated stronger storms overnight.  We could easily pick up 1″ of rainfall tonight.   As of right now, we are not included in a discussion of severe weather tonight but we will be monitoring the radar closely.  We are not looking at widespread flooding with this system Saturday night but spots that typically see some problems need to be monitored.  By 7 AM Sunday morning, we could see some stronger storms, especially in southwestern Indiana. But this is NOT the main event.
SUNDAY: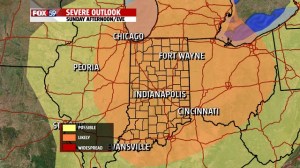 The entire state of Indiana is under a "MODERATE RISK" of severe weather on Sunday.   This day will be broken into two waves of storms.
1. Early afternoon supercells
2. Main squall line associated with the cold front
Each wave will have the potential to create severe thunderstorms in Central Indiana.
The first wave of supercells could form by noon here in Central Indiana, especially in our western counties.  These cells will tap into an incredibly moisture-rich environment but they'll also tap into impressive wind shear.  This means that the initial super cells will hold our best chance to see tornadoes form out of this event.  Yes, you read that right.  These tornadoes have the potential to be strong as well, so we aren't talking about a brief touchdown.  These storms will also be moving incredibly fast.  Storms will be moving at 60 mph from southwest to northeast.  This is in line with the mid level winds.  This also makes it very important to be monitoring the weather as the situation could quickly deteriorate for your location.
Quickly on the heals of these supercells will be our squall line associated with the cold front. This will be moving in from northwest to southeast across our state.  Here's a look at where the cold front should be during Sunday: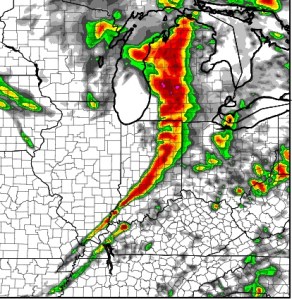 2 PM: Lafayette/Terre Haute
4-5 PM: Indianapolis/Bloomington
7 PM: Greensburg
This line will also be moving just as fast as the earlier supercells.  It could produce damaging wind gusts which would bring down trees, power lines and damage homes.  It is very important to be in a safe place even in a severe thunderstorm warning tomorrow.  These storms WILL pack a punch.  This long squall line could also see a few imbedded tornadoes in the main line, large hail, heavy downpours and frequent lightning.  Any isolated tornadoes associated with the squall line wouldn't last very long but they could still produce damage as they pass.
So let me say this again… It is VERY important that you be aware of the weather on Sunday and stay informed throughout the day.  This storm system resembles the Halloween set up that left so many of us without power and knocked down trees.  But unlike the Halloween storm, this one is looking stronger and more impressive in the tornado category.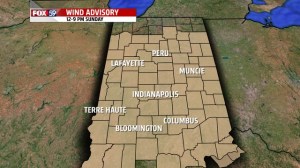 As a final note, a wind advisory has also been issued for Sunday.  Due to high winds on Sunday, a WIND ADVISORY has been issued for all of Central Indiana from 12 to 9 PM Sunday. Winds will be coming in from the south at 30 mph and gusting up to 45 mph.. and that's even ahead of the severe weather! Move lawn furniture in or closer to your home, take down outdoor umbrellas… and don't waste your time raking the leaves!