This is an archived article and the information in the article may be outdated. Please look at the time stamp on the story to see when it was last updated.
It has been a cloudy, windy and warm day here in central Indiana.  The temperature has reached 75°F here in Indianapolis so far today for the high. There is still an isolated chance for a few storms in northwest Indiana this evening but our main chance for rain starts overnight and into Monday morning.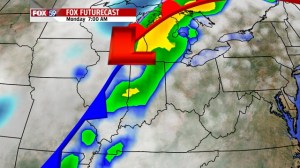 TONIGHT:
Scattered showers and thunderstorms will start to move in across our area in the overnight hours.  Temperatures remain mild overnight as we'll stay in the 60s until sunrise.  Winds continue from the south at 18-30 mph tonight.
MONDAY:
Showers and thunderstorms become more widespread just in time for the morning drive on Monday.  The 6 model average for rainfall comes in at .84" for the city with locally higher amounts up to 1.25" of rain.  At this point, severe weather is not expected on Monday morning as this cold front arrives.  The SPC does not have us in a risk area and the amount of energy is waning as this line arrives.  But you can't rule out some more gusty storms and locally heavy downpours as this passes.  Shower chances linger through much of the day but that doesn't mean it will rain all day, we could see a few waves of activity before this passes.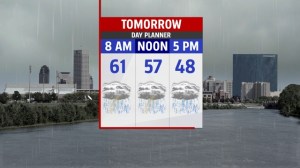 As for temperatures, those are set to fall throughout the day for the bulk of the state.  The only exception is the southeastern part of the state where temperatures will rise a few degrees Monday morning before the front arrives and then temperatures fall. The city of Indianapolis will observe the high temperature at midnight in the mid to upper 60s. But then temperatures will fall from there.  We'll be in the low 60s by sunrise, upper 50s at lunch time and the upper 40s by the evening drive.
MONDAY NIGHT/TUESDAY:
Another wave of moisture arrives Monday night associated with this system and with temperatures falling, this could easily change over to snowfall.  It's not expected to accumulate but seeing snowflakes going into Tuesday morning cannot be ruled out!  Temperatures remain cool on Tuesday.  We should only top out around 44° that day with mostly cloudy skies and a northwest wind at 5 to 15 mph.  Temperatures will start to bounce back for the latter half of the work week.  Rain chances return Friday into Saturday.