This is an archived article and the information in the article may be outdated. Please look at the time stamp on the story to see when it was last updated.
COLD RAIN
Light rain showers will continue to move through the state late Tuesday night and end very early Wednesday morning.  Showers will taper off quickly from west to east before sunrise.  Rainfall amounts should remain light around .15" or less.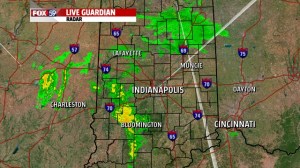 CLIPPER LOW
The same system that brought light train late Tuesday delivers a coating of snow in parts of eastern Iowa and parts of north central Illinois early Tuesday.  Snow accumulation of 2" were reported in Mendota, IL and 1.0" at Princeton, Il.  1.5" of snow was reported at Davenport and Princeton, Iowa Tuesday morning.
FEW FLAKES HERE?
There is a chance that the northwest flank of this system could briefly switch or mix to a few wet snowflakes after midnight mainly north and far eastern sections of central Indiana.  A snap shot from the Hi-res Rapid Refresh model shows most of the precipitation has departed by 4/5 AM Wednesday.  There could be a few snowflakes on the tail end of the system over far eastern Indiana just before sunrise.  This is also backed up by our in-house RPM model.  No accumulation is expected.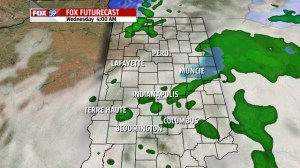 NOVEMBER-LIKE CHILL
Chilly afternoon high temperature for the next few days in the 40s will require a winter coat.  Forecasted high temperatures Wednesday should reach just shy of 50° for the first time since April 20th.  The Forecast high of 49° is the normal high temperature for November 21st.
FREEZE WATCH ISSUED
Area thermometers early Tuesday tanked into the middle 20s well away from the city.  Officially the city fell to 30°, coldest in 7 months but a hard freeze occurred in parts of western central Indiana.  Low temperatures dipped to 24° at West Lafayette and 25° at Lafayette and Frankfort.  Crawfordsville, Fishers, Zionsville all hit a hard freeze at 27°.  Cold mornings are expected Thursday and Friday with a forecast low of 29° in the city – a freeze watch is in effect for Thursday and Friday mornings.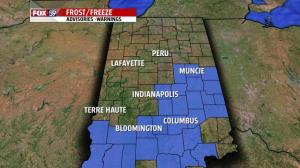 1 DAY WEEKEND REBOUND
Sunny weather returns Friday and extends into Saturday as southwest winds begin to blow.  Saturday area temperature are expected to push back near 60° before a cold front passes again Sunday morning.  The overall cool weather pattern will remain intact.  Currently the past 7 days have been below normal – and we are forecasting several more days consecutive below normal well into next week.  This is expected to be the longest cool spell since march when we reached 19 straight days below normal from March 12 through the 30th.