This is an archived article and the information in the article may be outdated. Please look at the time stamp on the story to see when it was last updated.
*Snow has fallen across southern portions of the state overnight.  Snow totals could have hit a half inch in a couple of communities in Monroe County.  Numerous slide offs have been reported in communities from Putnam, Morgan and Shelby County.
Well these persistent clouds have to break sometime.  It just doesn't look like that day will be today.  While our low level inversion is nowhere near what we saw last weekend, an inversion will persist today keeping us overcast.  A short wave trough is also passing through this morning bringing light snow to places south of I-70.  With temperatures slightly below the freezing mark some minor accumulations will be possible.  I wouldn't be surprised to see places like Bloomington seeing upwards of a half inch to an inch of snow.
This weekend: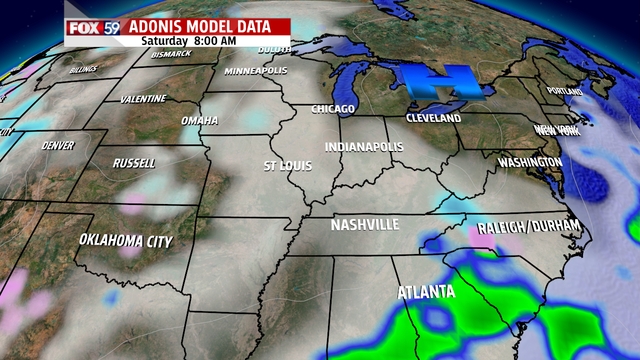 Model data once again underplaying impact of inversion with highs forecast to hit the mid to upper 30s.  The GFS LAMP model has had a decent feel for things over the past week (except for Friday) and it is the only model forecasting highs in the low 30s.  With current conditions and with what we have seen over the past week I am going to stick to a forecast for today that is close to what the LAMP is showing.  I will keep skies overcast with highs hitting 32 for today.  This morning's temperatures are already at 29 so I am not forecasting much of a warm-up at all.
While we don't expect to see any sunshine today, I am hopeful that we will finally get some sunshine in on Sunday as highs surge into the 40s.  How nice is that going to feel?  Winds should be gusty with a slow rise of temperatures throughout the day on Sunday.  Highs on Sunday will be reached late afternoon just ahead of the sun going down.  We will not see a big temperature drop from Sunday night into Monday morning.
Next week's impending rain, snow, etc.:
The warm-up continues on Monday with highs nearing 50!  Tuesday will be even warmer with temperatures continuing to rise from Monday to Tuesday night.  Rain also arrives Monday night and picks up in coverage and intensity overnight.  By Tuesday afternoon some places could be picking up upwards of a tenth of an inch per hour.
Rain is expected to continue through Tuesday morning.  By Wednesday afternoon we could be seeing a mixture of rain and snow.  At this point it looks like most of the snow will fall with surface temperatures slightly above the freezing mark.  Clearly that is some great news.  The concern will be as we see temperatures fall to below freezing on Christmas morning how those same roads will hold up.  Slick spots will be possible for anyone venturing out first thing that morning.
In total we could see upwards of a half inch to a full inch of snow on the ground in grassy areas with little to no accumulation on roads if model data proves to hold true.