This is an archived article and the information in the article may be outdated. Please look at the time stamp on the story to see when it was last updated.
MARCH OPENS COLDEST IN 36 YEARS
Single digit low temperatures and afternoons of 15 to 25 degrees below normal have brought the average temperature for the first 4 days of March to 21.8° – coldest opening 4 days of this month in 36 years and ranks 10th coldest all time.  Low temperatures will dip again to around 10° most locations, but even colder away from the city for a short time before clouds arrive later in the night.
Tuesday morning low temperatures were the coldest for a March in 12 years!  Some area low temperatures included 1° Mt Comfort, 3° Columbus, 4° Zionsville and Muncie, 6° Shelbyville, 7° city and Kokomo. Tuesday was the 10 straight day of at or below normal temps.
RECORD SNOW COVER FOR THE DATE
Warming in the days ahead.  Snow cover to slow the warming initially – with 53.9% of the nation snow-covered – most ever for a March 4th in the 10 years of data keeping.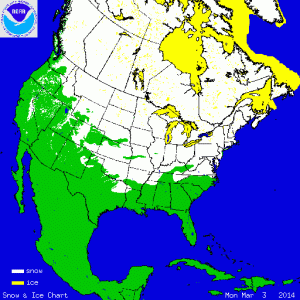 MARCH – FASTEST WARMING MONTH
We gain 1 hour and 18 minutes of daylight this month – so it is only a matter of time that warmer days arrive with some regularity. We could crack 50° by end of work week and possibly upper 50s Saturday.
FEW WARM DAYS BUT MORE COLD ONES
No pattern break upcoming but some spurts of warmth would be welcome by many – we get a 50° Friday and Monday but dominate winter pattern not easing just yet.  Per overnight run of European computer model next week a lobe of very cold air could be headed south and a southern low might make things a little interesting.  Looks like we will have plenty more winter coming our way rest of the month.  Stay tuned.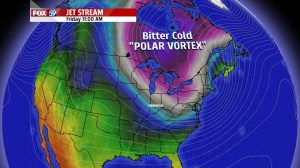 More cold and possible snow later next week