This is an archived article and the information in the article may be outdated. Please look at the time stamp on the story to see when it was last updated.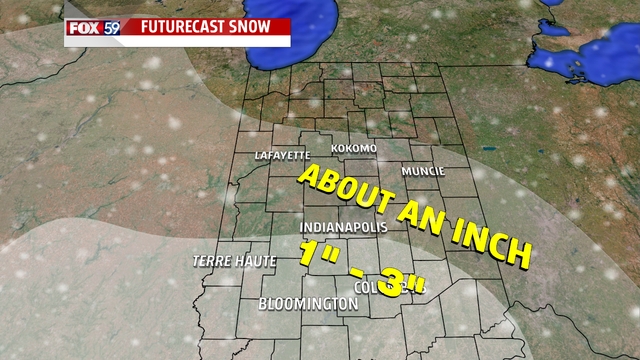 Headlines:
More snow heading our way
Some places could see more than an inch
Indianapolis expected to see around an inch
Cold returns midweek
Today:  Morning front is through and temperatures will only be going down from here for the day.  Expect a mostly cloudy and chilly day with winds calming. Snow returns:  All eyes will be on a mid-level vort that will pass through area overnight tonight.  We often refer to it as a Alberta low or clipper low.  The mid-level low will wind along the lower base of this persistent trough we have been dealing with for the month and bring us a strong chance for snow.  At this point it looks like Indianapolis could see about an inch of snow with the GFS forecasting nearly 3 inches of snow!  We will stick with an inch in Indianapolis and up to 2 inches of snow possible for places like Bloomington overnight tonight into Tuesday afternoon.
Another temp dip:  For the second time this year, temperatures are expected to dip to below 0 at times this week.  It looks like the coldest morning will be on Wednesday when we fall to a forecast low of 3 below.  We will also have chances for falling below 0 on both Thursday and Friday mornings.  Highs on Tuesday, Wednesday and Thursday won't hit 20 degrees.  It looks like the arctic air mass will briefly lift as we head into the weekend.