This is an archived article and the information in the article may be outdated. Please look at the time stamp on the story to see when it was last updated.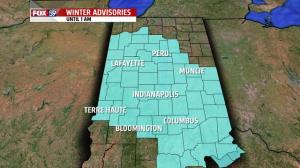 **UPDATED AT 10 PM**
Good evening!   Heavy snow started falling in many locations north of I-70 around 2 PM this afternoon.  Our heaviest snow fell between 2 -8 PM ending from west to east.  Even as the heavy snow began in Lafayette around 2 PM, visibility dropped to around a half mile.  Visibility now runs around 1 mile or less from Lafayette to Indianapolis to Columbus.  This includes most towns north of this line as well.  By 10 PM, visibility had improved greatly across the state as snow had basically come to an end.
The heaviest area of snow set up just north of the I-74 corridor from northwest to southeast.  This is where we picked up the more impressive snowfall numbers. The city of Indianapolis officially picked up 2.2″ of snowfall today, taking us to 23.1″ for the month.  This leaves our snowfall total this month in 3rd place for snowiest January.
Here are some more snowfall numbers listed below.  Please keep in mind that some of these numbers are older measurements and may not be the total that you saw. If you'd like to give a more recent recording for your city, please send it to Jennifer Ketchmark and she'll update it on Sunday: jketchmark@fox59.com
SNOW REPORTS:
Anderson: 5.2″
Kokomo: 5.0″
Muncie: 5.0″
Lafayette: 5.0″
Peru: 5.0″
Yorktown: 4.9″
Fairmount: 4.5″
Mexic0: 4.3″
Frankfort: 4.0″
Logansport: 4.0″
Portland: 4.0″
Rushville: 4.0″
Marion: 3.8″
Cicero: 3.5″
Hartford City: 3.0″
Noblesville: 3.0″
Westfield: 2.8″
Brookville: 2.5″
Carmel: 2.5″
Knightstown: 2.5″
Indianapolis: 2.2″
Southport: 2.1″
Brownsburg: 2.0″
Columbus: 2.0″
Greenwood: 2.0″ (From BAMChase.net)
New Palestine: 2.0″
Wabash: 2.0″
Fortville: 1.5″
Lawrence: 1.5″
Mooresville: 1.5″
Plainfield: 1.5″
Brooklyn: 1.2″
Broad Ripple: 1.0″
Amity: 1.0″
Camby: 1.0″
Our roads quickly became snow covered from this system and result in poor driving conditions.  Below is a snapshot of the road conditions according to INDOT on Saturday evening.
Grey = Clear; Blue = Fair, Purple = Difficult.
For LIVE updates on road conditions, head to this link: http://indot.carsprogram.org/main.jsf
Sunday: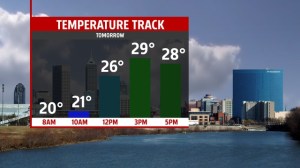 Skies remain cloudy tonight and we'll wake up to mostly cloudy conditions in the morning.  Temperatures will be in the upper teens across the state.  But this area of clouds will move out by the noon hours to reveal sunshine.  Temperatures will be a little bit warmer than what we saw on Saturday but it will also be breezy.  Highs should increase to the 30 degree mark in Indianapolis and slightly colder to our north.  Winds will be coming in from the southwest at 10 to 20 mph and this could promote some blowing and drifting snow during the day.