This is an archived article and the information in the article may be outdated. Please look at the time stamp on the story to see when it was last updated.
We've been tracking the chance for snow for several days but the picture just got more defined with the morning weather models.  We are still expecting the weak cold front to drop into our northwestern counties this evening.  This will bring in some flurries and light snow showers to places like Lafayette, Crawfordsville, Peru, Muncie and Kokomo.  Spotty snow showers could start in these locations as early as the evening drive.
But another system has to be examined and this could cause a bigger problem for the city of Indianapolis and especially the southern half of our viewing area. The large picture at the top of the page shows you what is happening now.  The cold front is still to our northwest.  But there's a much larger system developing to the south.  This upper level low is quickly advancing to the north and this becomes an issue for us as early at 7 PM tonight in the southern part of the state.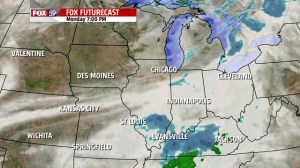 7 PM:  Here's a look at that southern moisture by early this evening.  Temperatures should already be falling back below the freezing mark, thus resulting in chance for snow and very little rain.  But this will be a very wet snow that melts at first on contact but will stick better to grassy surfaces.  But at this hour, it's just entering the state.  A few spotty snow showers in advance of this main area cannot be ruled out.  We'll be actively tracking this throughout the afternoon!
11 PM: Fast forward to late tonight and snow makes its way further into the state.  This would mean advancing snow showers between 8-11 PM from I-70 and to the south.  This is going to be the best zone for snowfall this evening and past mid night.  The amount of snow from this should be under 1″ for us, but it still means you need to watch the roads and slow down a bit.  Some of the models, especially the RPM, are trying to place as much as 2″ of snow by Tuesday morning in some isolated spots. Our best window for snow to accumulate is after midnight so that at least reduces the number of vehicles on the road.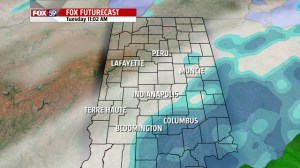 TUESDAY:  But this first wave of moisture isn't the only snow chance we'll see over the next 48 hours.  Snow will redevelop late Tuesday morning and continue through the early afternoon hours.  This second chance of snow is primarily in the eastern half of the state and specifically in the southeast quarter of Indiana.  You can see it pictured directly to the left.   This too could produce some light accumulations of snow for us and create some slick spots on the road again. This could potentially lead to a slower commute home on Tuesday if you live in this part of the state.
Overall, central Indiana is looking at trace amounts of snow, especially in western Indiana, and up to 2″ is some spots.  We'll be breaking this down even more this afternoon starting at 4 PM.  See you soon!