This is an archived article and the information in the article may be outdated. Please look at the time stamp on the story to see when it was last updated.
TURNING COLDER
A chill in the air Tuesday evening as temperatures hold steady in the middle 30s.  The chill has a sting to it after 8 straight days of 50° plus weather.  The wind chill will lower at times to the lower 20s.
Occasional flurries and a passing snow shower is possible just beyond 12 AM.  Tuesday marked the first time that a 'trace' of snow has fallen since December 18th, 12 days ago.
Reinforcing cold arrives behind a passing front Wednesday evening sending afternoon temperatures to near freezing Thursday and Friday, New Year's day.  Dress for the cold Thursday night – we could lower into the upper teens to start 2016.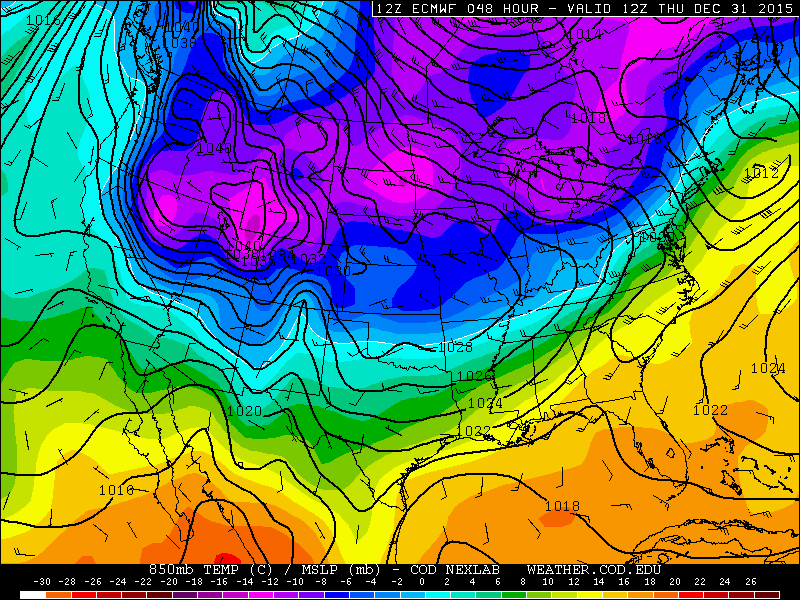 RECORD SETTING RAINFALL
The three day rainfall total of 3.65″ is the most ever for the dates December 26th through the 28th in 144 years of weather records.  The December rainfall now stands at 5.59″ and ties for 7th wettest on record to date.  The year has a rainfall total now of 48.15″ – 23rd wettest ever,