This is an archived article and the information in the article may be outdated. Please look at the time stamp on the story to see when it was last updated.
(Dec. 26, 2014) – December could shape up to be one of the least snowiest on record here in Indianapolis.  As of today the city has only recorded a tenth of an inch of snow.  This places December 2014 in a tie for third when it comes to least amounts of snow.  The least snow ever recorded in December was all the way back in 1889 when they recorded no snow whatsoever for the month.  In 1940 and 1931 we recorded just trace amounts of snow for the month.  Indianapolis has had two other years where only a tenth of an inch of snow was recorded in December (1941 and 1896).
Heading into this week it looked like we would have two solid chances for snow including the system on Christmas Eve that brought snow to places north and west of Indianapolis.  The second system now appears to have dried up as next week looks dry behind a weekend system that will bring just rain to the area.  There will still be a chance for some flurries as we head into Monday and Tuesday of next week, but likely won't see any accumulation from that.
Today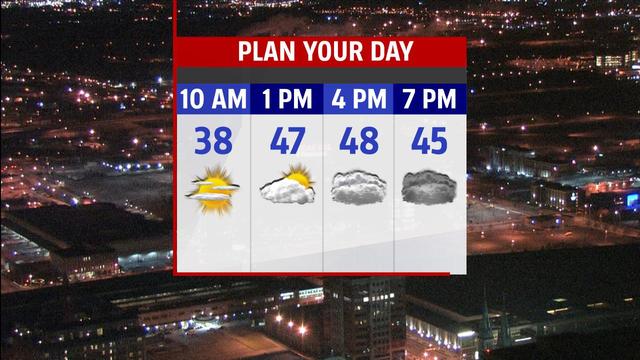 After a high of 41° on Christmas we will be warmer than that today.  Some communities will even hit 50 degrees.  I think Indianapolis hits the upper 40s today with highs tracking warmer on Saturday even with a rising rain chance.
The first part of today will be clear with clouds rolling in from the west as we head into the afternoon.  By 7 p.m. we should be dealing with mostly cloudy to overcast skies.  Winds today will be out of the SSW at 7 – 12 mph.
This weekend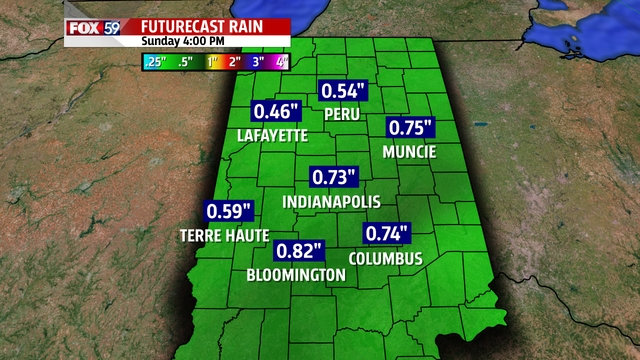 Saturday will start off dry but rain chances will begin to go up as we head into the afternoon.  At this time it appears a half inch could fall from Saturday afternoon to very early on Sunday morning.
The rain will be along and ahead of a cold front with temperatures much colder on Sunday.  Saturday highs will likely hit the mid-50s ahead of the rain.  Clouds will keep temperatures up Saturday night into Sunday.
Sunday's highs may be reached just after midnight but model data continues to show the high reached in the afternoon.  Either way I think we see a Sunday high of around 40 degrees.  Rain will come to an end early but it does not appear clouds will be clear.  In fact we are expecting to see overcast skies from Monday morning through Wednesday.