This is an archived article and the information in the article may be outdated. Please look at the time stamp on the story to see when it was last updated.
Snow is coming to a close very quickly here across central Indiana.  The winter weather advisory and winter storm warning were allowed to expire early.  No new snow accumulation is expected from this point on out this evening.  What we will still be dealing with is the amount of wet, heavy snow that fell across the state.  Many of the main roads have been plowed and treated.  What you'll need to watch out for overnight is refreezing on those untreated roads, sidewalks and driveways.  Temperatures are going to fall into the upper teens tonight so we'll definitely be stuck with this snow for a bit.
Here's a look at some of the area snowfall totals:
Alexandria: 5.0″
Brownsburg: 4.0″
Fort Wayne: 7.0″
Frankfort: 6.0″
Indianapolis: 2.6″
Indianapolis (Southside): 3.5″
Jamestown: 3.5″
Kokomo: 5.5″
Marion: 5.0″
Muncie: 6.8″
Noblesville: 2.0″
Pence: 6.5″
Plainfield: 4.0″
Sweetser: 6.0″
Terre Haute: 4.0″
Thorntown: 5.0″
West Lafayette: 6.3″
Windfall: 4.0″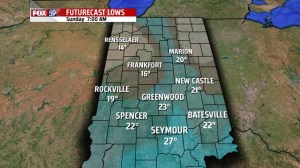 Temperatures drop into the upper teens tonight and we'll barely see temperatures budge during Sunday's forecast.  We will start the day with partly cloudy skies and a few more clouds will roll in for the afternoon hours.  We could see flurries on Sunday afternoon but no new snow accumulation is expected.  Temperatures will drop even further Sunday night as we return to 12°F.
Monday will be quiet as we start off the work week.  Temperatures will actually see a nice boost this day as we top out around 30°F.  Granted, these aren't the most impressive temperatures in the world but it is an improvement from Sunday's high temperature.  We will see another quick chance for snow on Monday evening as a minor system clips the state.  But this will be minor!  The models are trying to pick up a little bit of moisture but on the high end we are looking at .2″ of snow.  Most locations will see little to no new snow out of this wave Monday evening.
We will start to see a warm up this week and a decent amount of this snow will be melting away!  Temperatures will make it into the low 40s on Thursday with increasing clouds and a chance for rain late in the day.  Rain is likely to continue into Friday and this will also be our warmest day of the week.  We'll actually get really close to the 50 degree mark on Friday morning before temperatures start falling again!