This is an archived article and the information in the article may be outdated. Please look at the time stamp on the story to see when it was last updated.
RAIN ARRIVES LATE TONIGHT EARLY SATURDAY
The next round of rain will push into Central Indiana during the early morning hours Saturday.  A cold front will shift winds and settle south tonight with clouds on the increase.  Rain showers will push northeast from southern Illinois and is expected to reach the city around 3 AM.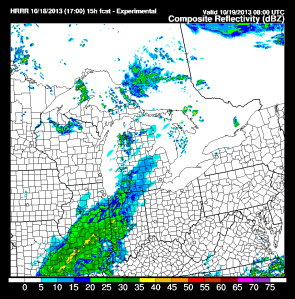 A cold rain will fall Saturday morning with area temperatures holding in the middle 40s.  Rainfall should average about 1/3 of an inch – based off a 7 computer model average.  That number has doubled since Thursday as the computers have come into better agreement with timing and strength of the system.  Showers are likely to scattered and diminish by early afternoon but a heavy clouds cover could hold temperatures to only around 50° – more typical of mid-November.  Get acclimated to this weather it is a hint of what is coming later in the week.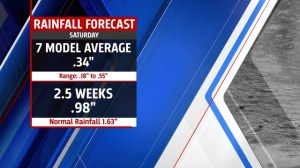 TEMPERATURE PING-PONG
Thursday brought clouds/rain and cool temperatures but Friday turned breezy and much warmer!  By 5PM area temperatures were into the middle 60s (the exception Lafayette and Peru after a wind shift there) and were running as much as 12° warmer than Thursday.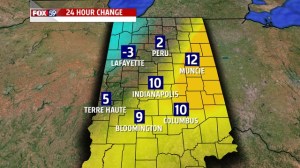 Another sharp drop and wet weather is expected Saturday but we will salvage part of the weekend.  Sunday we turn it all around again!  Patchy frost could develop in the city under clear skies but an afternoon southwest breeze will elevate temperatures again into the 60s.  Great weather expected for Sunday night Football at Lucas Oil Stadium as the Colts take on the Broncos.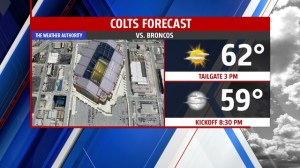 WARM START TO A CHILLY WEEK
The next cold front will not arrive until Monday so we will enjoy 2 days of 60° temperatures before real cold arrives Tuesday.  Mid-week on, temperatures are expected to run as much as 12 to 15 degrees from normal.  Chilly afternoons will lead to cold nights and at this distance it is possible that freezing temperatures reach the city.  Cloud cover and wind conditions will be better forecast in the days ahead (they have a big impact as to how cold it will get) but an area wide frost is coming and a potential is there for a hard freeze away from the city.  Stay tuned for updates and advisories to come.
BIG TURN TO COLD AFTER A WARM FALL
By mid-October the average high temperature was running at 73.4° – good for the 23rd warmest on record and Fall 2013 has produced 72% of the days above normal.  Friday marks 3 straight days of below normal temperatures – 3 weeks since we has a cool spell span that long and has started to cut into the Autumn surplus.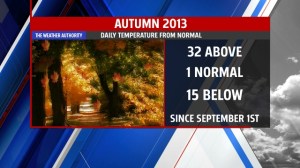 WARM FALL TO TAKE BIG COLD TURN
The long forecast and advertised cold pattern is locking in and an all-out shift across north America brings the coldest air here in 6 months.  A powerful storm heads into Alaska driving warmth up the west coast of the continent while dislodging cold and plunging south into the eastern U.S.  The pattern change is expected to extend into the first week of November.  Several days over the next 2 weeks could average 15 – 25 degrees below normal!!!