This is an archived article and the information in the article may be outdated. Please look at the time stamp on the story to see when it was last updated.
LIGHT RAIN ARRIVES TONIGHT
Clouds are on the increase late Wednesday afternoon – a new weather system is on the way.  Showers are likely to reach the city near 12 AM as they slide out of Illinois late in the day.  This is not the main storm system, these showers are being pushed along by an approaching warm front and are expected to be rather light.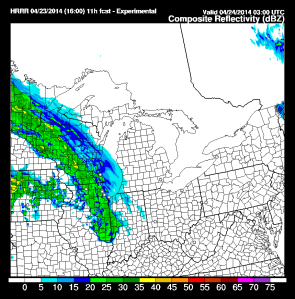 MAIN RAIN ARRIVES LATE THURSDAY
The bulk of rain will fall later Thursday night into early Friday morning.  A few t-storms could also move about the area as well.  Rainfall projections range from .18" to .58" with a 7 model average of .43" for the city.  Timing of rain look to move in after 8 PM.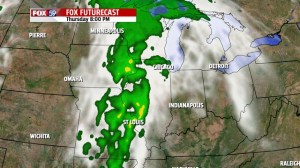 WEEKEND FORECAST
The trends of the overnight computer runs have pulled back considerably on  the warmth forecast for Sunday today.  A stalled front appears to set up now south of the city allowing more of an early Spring chill to continue.  At this distance the movement of the front is still very critical has to how warm or cool we will be and bears close watching, I can tell you that it looks like a huge north to south temperature spread could be in the works.  The picture will become more clear Thursday afternoon and Friday.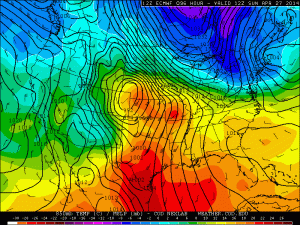 Rain will make a returns this weekend as well with showers in the area Saturday and increasing in coverage Sunday and Sunday night.  The stalled front could be the focus mechanism for the scattered showers initially as the weekend opens.  Later Sunday into Monday a more intense spring storm will be in full formation out west – this storm will bring more rain in to start the work week. The storm could generate a multi-day severe weather outbreak for parts of the nation.  The National Weather Service's Storm Prediction Center has out-looked several state over several days as the spring storm comes together by early next week.
The cool spring has had a positive effect on severe weather.  Tornado production is way down this year – only running at 23% the normal.  To date 109 tornadoes have been reported – under the 218 in 2013 and below the 3 year average of 468.  April has only produced 39 tornadoes through the 23rd of the month –  only 14% the normal!  Even more important – there have been no fatalities in the U.S. this year from tornadoes!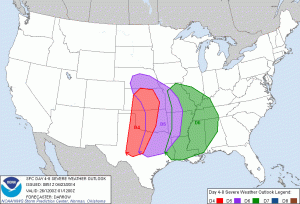 CLOSED LOW = WET AND CHILLY END TO MONTH
The decided change in the extended forecast to cool and wet conditions Sunday, develops as Spring storm delivers heavy rainfall and stalls over the state for potentially much of next week.  Rainfall numbers look impressive -7 day totals could reach 5" downstate with general 1" to 3" amounts possible here.  Afternoon temperatures starting Monday could ruin 15 to 20 degrees below the normal high of 68°