This is an archived article and the information in the article may be outdated. Please look at the time stamp on the story to see when it was last updated.
Isolated showers continue across central Indiana this evening. Most of our rain showers have been south of I-74 today but a few isolated showers did make it to the north and that same chance is there this evening. Just keep an eye on the radar. Good news if any, we are not expecting severe weather or any strong thunderstorms. There really hasn't been any lightning to report out there today.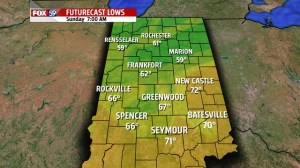 TONIGHT:
The overnight hours should be dry for the most part with mostly cloudy skies. You can rule out a very isolated pocket of rain but the chance does go down. The temperature drops to 67°F tonight with winds from the northeast at 5 to 10 mph.
SUNDAY:
Low pressure continues to sit off to our south for Sunday and this will keep in the rain chance for yet another day. This area of low pressure has barely moved this week and a stationary boundary near this front continues to promote showers locally. Sunday will be another mostly cloudy day. Scattered showers will be possible yet again and this chance will be seen area wide, especially during the afternoon hours. Temperatures increase back to the low 80s again.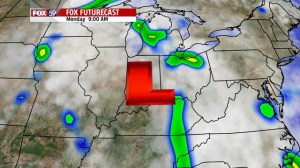 EXTENDED:
This same pesky area of low pressure will hang out over the Ohio Valley and eventually right on top of our state for Monday and Tuesday. This means that the chance for showers and thunderstorms will continue for both of those days but with better coverage than what we'll see this weekend. Be sure to have the umbrella handy. Looking at the silver lining of this rain, it's not expected to be strong or severe in our state. But this will also keep temperatures below normal as we kick off the work week. Cooler, drier air arrives once this area of low pressure finally moves out by Wednesday and we'll get back to mostly sunny skies and comfortable temperatures. And as you can probably guess, it won't feel like August out there!