This is an archived article and the information in the article may be outdated. Please look at the time stamp on the story to see when it was last updated.
We started out the day with gloomy conditions and scattered storms.  We'll actually see some peaks of sunshine in the coming hours, especially if you are in the western and northwestern part of the state.  Here's a look at how much rain already fell this morning.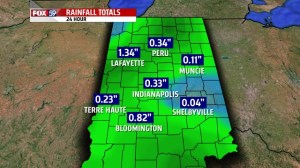 Spotty showers and isolated storms remain possible this afternoon as the atmosphere gains more energy and cells continue to form.  This will not end up being a massive event, but more hit and miss.  Severe weather is not expected this afternoon either.   Here's a look at Fox Futurecast as we continue throughout the afternoon.  Rainfall amounts will be minor from the way things are looking from these images.  Also, showers should come to a close before sunset.
But as the day wears on, the humid feeling and high dew points will remain.  Even after the morning area of storms, dew points were still in the low 70s and you could definitely feel the moisture in the air.  Granted, temperatures won't be terribly hot today but it will still feel warmer due to the high moisture content in the air.