This is an archived article and the information in the article may be outdated. Please look at the time stamp on the story to see when it was last updated.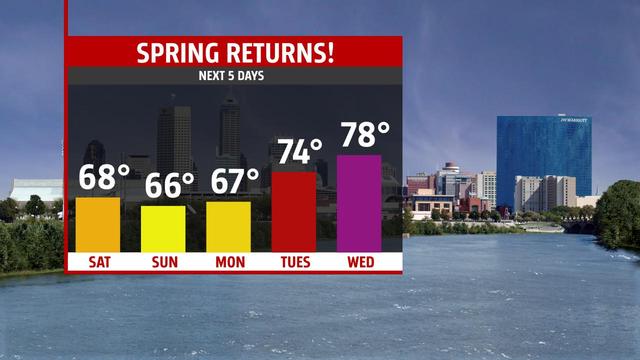 The pesky upper low that has kept us cloudy since last Sunday finally moves on today, that means it's a return of spring weather this weekend with highs today close to 70°!  If you're running the mini this morning it will be a cool start but the weather should be near perfect for a long run.  Cloudy with rain east of the city by 8, I think the course will be drying out as the race is going on.  It may feel a little stuffy by the end of the race as we start to warm up.
Rain chances return on Sunday as a stalled out front sits on top of the state.  This cold frontwill also mean a rather large spread in high temperatures with places north of
Boone county looking at a chance of seeing significantly cooler weather than places from Indianapolis south.  Rain chances will stick around for your Monday with another small chance for rain.
We are looking at a strong warm-up to finish out the week with highs potentially hitting 80 degrees for the first time of this year in Indianapolis on Wednesday or Thursday.  This set-up (ridge of high pressure of the gulf, weak steering winds) may mean a heavy rain producer next weekend.  We are watching it closely.  Have a good one.