This is an archived article and the information in the article may be outdated. Please look at the time stamp on the story to see when it was last updated.
Last night's storms stayed just far enough north to create a pretty quiet day for central Indiana…that should change for tonight!  It appears storm chances will be ramping up again late day with a threat for most of central and northern Indiana between 6:00pm and midnight!  Storm chances are creeping up and could last through Thursday morning.  Here is the slight risk for today and tonight highlighted in yellow…
Before the storms arrive, expect another hot one…if not, the hottest day so far this year!  Here is a sampling: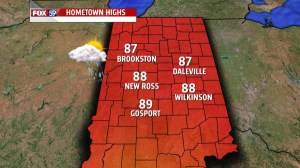 Daily storm chances but keep your plans…best chance of a washout right now appear to be Wednesday and Sunday at this time!