This is an archived article and the information in the article may be outdated. Please look at the time stamp on the story to see when it was last updated.
COOLER BUT STILL HUMID
Cooler but modest humidity is still in the air Friday afternoon. A cold front is still west of the state so threat of more showers and t-storms on the rise through the afternoon.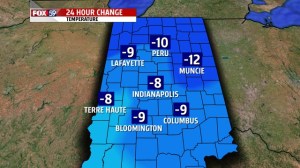 STORM CHANCE INCREASING FRIDAY EVENING
The severe  threat still remains conditional – meaning the clouds and dry time since early AM rain could hinder development. At  (4 PM) should severe storms develop, would target the southern third of state. Still bears close watching – and something we will monitor over next few hours. 
Visible satellite at 4 PM shows brighten skies over western Indiana.  Extended dry time could support a few t-storms.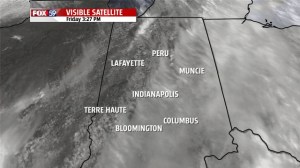 POSSIBLE SEVERE STORM WATCH
A severe watch is being considered for portions of Indiana by the Storm Prediction Center (SPC) as storms develop out west.  As the
atmosphere "recovers" from early rain it becomes more unstable with dry time and day time heating – supportive of vertical cloud building.  Storms could become more active later this evening.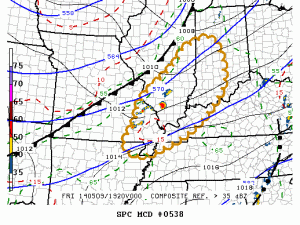 Severe cluster of storms in southern IL will work east – keeping an eye on that region where a t-storm watch has been hoisted out west. I'm posting the forecast radar for 8 PM tonight. Sct storms are forecast to develop, we bracket the hours of 4 PM to 9 PM earliest in western Indiana. Should a few severe storms get going, damaging wind gusts primary threat.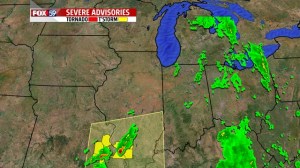 GRAN PRIX SATURDAY
Lowered humidity  is coming for Saturday and most of the day will be spent with a mix of sun and clouds.  A few showers are possible later in the day as moist air migrates north from southern Indiana.  the same front passing later tonight returns as a warm front early Sunday morning.  A chance of showers Saturday will build to a chance of showers and storms by Sunday morning.