This is an archived article and the information in the article may be outdated. Please look at the time stamp on the story to see when it was last updated.
I was leaning towards this solution yesterday but needed an extra day to ensure that model data was going to be consistent.  At this point all signs are pointing to stormy conditions on Monday, but the worst of the weather coming in on Tuesday.  In fact we have come full circle as my first blog post about the upcoming severe (last Wednesday) talked about the storms arriving on Tuesday.
The Next 24: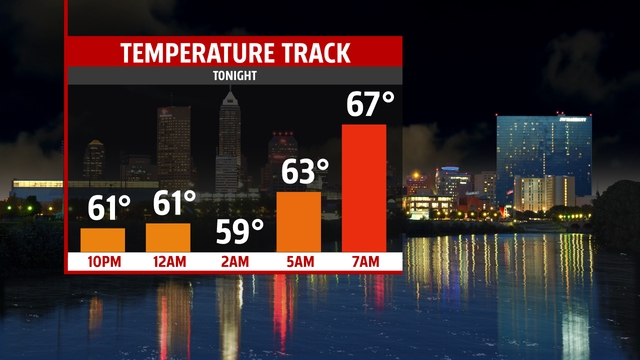 Rani chances will go up overnight tonight with a couple of rumblers around as many are sleeping.  Some scattered rain showers will impact the morning commute with more rain and storms being possible throughout the day.  While you will need the umbrella you likely won't need a jacket as temperatures will surge behind a warm front that will slide through tonight.  Monday highs will be in the 70s!  In fact some communities in the state may get close to 80 degrees for highs.
Winds will also turn gusty with southerly winds sustained at 10 – 20 mph and gusts topping 25 mph.  Skies should remain cloudy throughout the day on Monday with just a few breaks in the clouds.  For Indianapolis we are forecasting a high of 76 degrees.  The average high for this time of the year is 67 degrees.
Tuesday storms: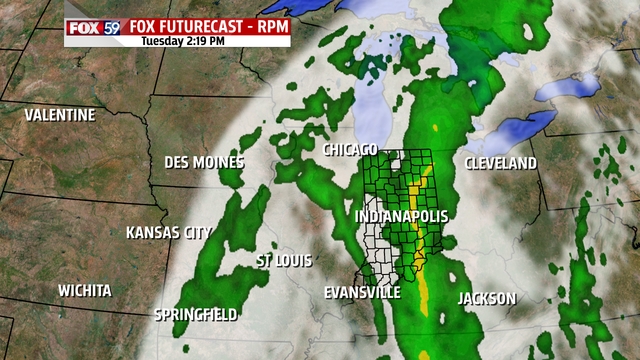 At this time I think we have to keep everything at least on the table when it comes to the chance for storms here in the state on Tuesday.  The storms will be driven by a big spin in the atmosphere with the jet stream screaming overhead.  Winds in the jet stream will be at around 120 knots with divergence aloft.  Simply put instability will certainly be there when it comes to the upper levels.  At the surface temperatures will be in the 70s with dew points only hitting the low 60s.  I think the relatively low dew points will be offset by overall instability.  All signs point to winds, hail and perhaps even tornadoes being possible as this system moves through the state.  It still looks like places south of the state will see the best chance for strong storms but you certainly cannot rule out our chances.  Tomorrow I expect us to be added to the Tuesday severe risk area.  We may also see ourselves dropped from the Monday list.