This is an archived article and the information in the article may be outdated. Please look at the time stamp on the story to see when it was last updated.
SEVERE THREAT DIMINISHES
Dry time developed Wednesday – with the air mass trying to recover after early AM rain and storms.  A "Cap" – the inhibitor to storm development dissipated by noon so storms were free to build,  however the most unstable air remained in far southern Indiana – best support for severe storms to develop.  SPC (the Storm Prediction Center) issued several tornado watches including southern Indiana.  And right on schedule the storms began building around 4 PM.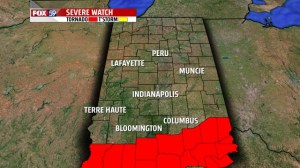 The severe storms bypass central Indiana but still a chance of a few storms early this afternoon and evening.  Tornado watches hoisted in southern Indiana and for much of eastern KY, southern OH.  A line of heavier storms is likely to become severe near the Ohio river and northern Kentucky later this evening.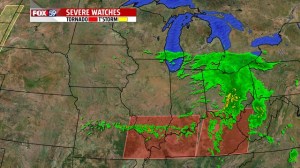 BIG RAINFALL
Over 2" of rain has fallen in the city over the past 3 days – that's nearly 60% (more than half) the normal rainfall for an entire June.  Dry time is coming but the rain was welcome.  There was very little rainfall here in central Indiana from May 22nd through the second of June.
Dry time expected Thursday through Saturday afternoon.  The next threat for rain and storms is expected Saturday late afternoon and evening.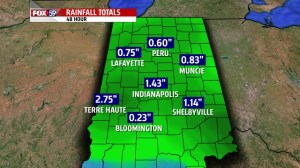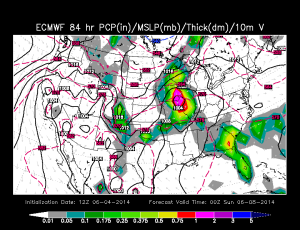 COOLING DOWN
Low temperatures tonight will dip into the upper 40s and lower 50s over parts of northern Indiana.  The early season warmth and high humidity pulls back with the passage of a cold front here Wednesday evening.