This is an archived article and the information in the article may be outdated. Please look at the time stamp on the story to see when it was last updated.
(Sept. 11, 2014) - After a night of storms the area dries out today with much cooler weather on the way.  Fall doesn't officially arrive for another week and a half, but temperatures will feel like it's mid-October for the remainder of the week.
About last night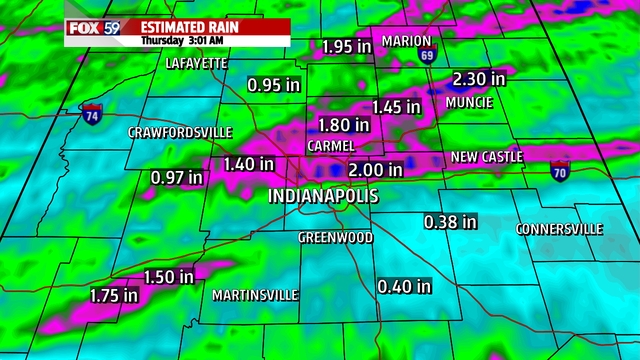 Strong intense storms rolled through the state with few damage reports but plenty of flooding issues.  The last of the flash flood watches in the state are expected to expire this morning.  In Castleton, a trained storm spotter reported 1.98" of rain falling in one hour and a rain total of 3.04".  Other counties that saw big storm totals last night include Hendricks, Hamilton, Delaware and Madison.  Hancock and Henry along with Clay, Owen and Putnam counties also saw plenty of rain overnight.
The good news in all of this is that we didn't see much in the way of severe weather overnight last night even with us having a tornado watch issued as the storms came through.  We talked about last week how it appeared all the ingredients were there for big rain totals with the potential for some severe weather and it seems that really stood up.
Snow and ice in Nebraska
It's snowing in Montana this morning and the powerful upper low will bring snow and ice possibilities to Nebraska over the next day.  This system is also tracking our way but by the time it gets here on Saturday it will only be the remnants of a once powerful storm.
Our weather will continue to remain a tad unsettled with plenty of clouds due to the system through the rest of the week.  Today's high will be 72 degrees and was reached at midnight.  The rest of the day will be cool with temperatures for the rest of the day falling close to the mid-60s.  Tomorrow's highs won't be much warmer with us approaching 70 for a high on Saturday.  You can say goodbye to the 80s for the near term with no 80s forecast over the next week.