This is an archived article and the information in the article may be outdated. Please look at the time stamp on the story to see when it was last updated.
LATE SEASON SIZZLE - ANOTHER 90° DAY
Another hot and humid afternoon Wednesday with many area temperatures topping 90°.   Combined with high levels of humidity for so late in the season, the heat index topped 100° at Lafayette, Kokomo and Peru.  Officially Indianapolis reached the 90° mark for the 28th time this year.
Only 29% of the years on record have produced 28 or more 90 degree days.  The most ever was 58 days in 1983.
STORM THREAT INCREASES
Clusters of storms will be ongoing later tonight and well into Thursday morning and a few are expected to reach north and north central Indiana by daybreak.
Storms could be strong with damaging wind gusts later this evening and overnight.  The Storm Prediction Center has assessed a 'slight risk' for a portion of Illinois and far northwest Indiana.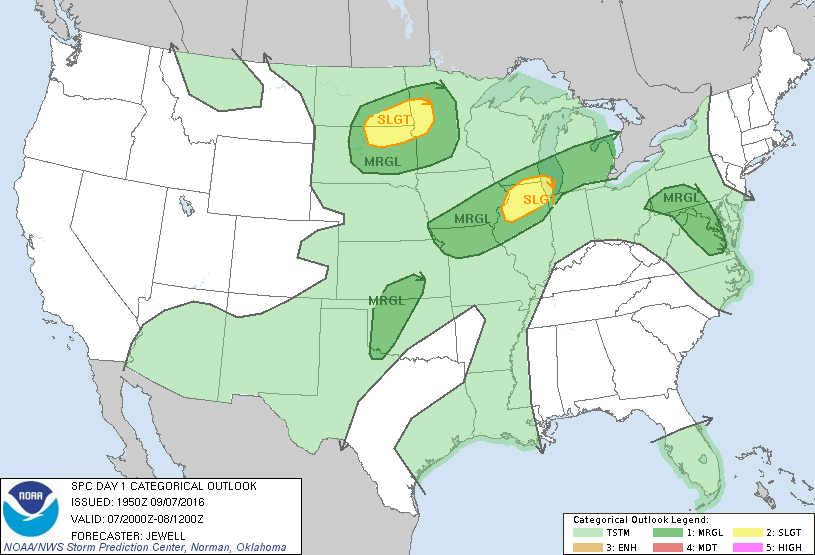 The storms are expected to lose some steam before reaching central Indiana early Thursday as they move away from upper jet stream air support.  A cold front will be slowly sagging south into the state late Thursday and will likely aid in new scattered showers and storm development Thursday afternoon.
The added cloud cover will prevent temperature from reach 90 degrees Thursday but the humidity will still be felt.  The high levels of humidity will help feed locally heavy downpours under some of the storms Thursday afternoon and evening.
STORMY FRIDAY NIGHT
The slow southbound front will hang around and encourage new storms Friday.  The location of  the front and combinced with an are of low pressure nearing from the west, a few stronger or even severe storms are possible later Friday evening and night.  we will monitor.